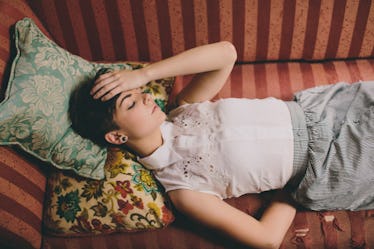 Rubbing These Essential Oils On Your Temples Will Stop A Headache Right In Its Tracks
If you've ever endured a monster of a headache, you know all too well that easing the pain isn't always easy. When the tension borders on a migraine, popping ibuprofen and massaging your temples usually does the bare minimum to alleviate tension, which is super frustrating when it feels like your brain might literally be pulsating through your skull. Since over-the-counter meds hardly ever cut it, I've started looking for holistic alternatives, like essential oils for headaches, that can take away the pain in a matter of moments.
I realize how ~zen~ I must sound preaching about the powers of essential oils, but trust me on this one, friends; these oils are actually essential. I used to be fine after popping an Aleve and guzzling a bottle of water. But lately, my headaches have been so debilitating that I can barely look at a screen without tears welling up in my eyes. Rather than mess around with more medication, a quick internet search suggested applying essential oils to my temples, forehead, and wrists for relief.
When you use essential oils instead of meds to ease a headache, the aromatherapy uniquely works to reduce tension through sensory stimulation. Moreover, Healthline reports that essential oils are highly concentrated liquids that have been derived from "leaves, stems, flowers, bark, roots, or other elements of a plant." In other words, this method is 100 percent natural, meaning the odds of triggering any of the numerous side effects that can come with prescription meds are slim to none.
So, if you're undergoing the most agonizing headache and pills just aren't getting the job done, give any of the following essential oils a try to relieve your pain quickly.