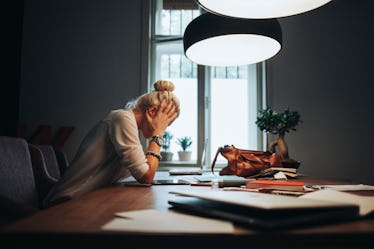 If You Can't Figure Out Why Your Head Hurts, These 5 Little Things May Be To Blame
Nothing gets in the way of a productive day quite like a headache hitting you with the force of a truck. You're going along with your day perfectly fine, and then bam — you're basically rendered immobile. The especially tricky thing about head pain is there are so many little things that can cause headaches, that it can be hard to locate the source of the pain, or figure out how you should adjust your lifestyle to prevent this in the future. Headaches are a nightmare, but they're often easily cured by a quick change in your nutrition, or even in your everyday routine. All you have to do is figure out what, exactly, you're supposed to be changing.
Headaches can range from a minor annoyance to a full-blown day-ender of a migraine, and if you don't address them, they might just get worse. If you seem to be getting headaches on a regular basis, the best thing to do is to track the pain as it comes on. That way, you can spot any patterns that could tell you more about how and why your headaches are hitting you the way that they are.
Of course, if you're still dealing with the pain, even after addressing these five little things that could be causing your headaches, it's definitely in your best interest to talk to your doctor about it. For now, consider these subtle details in your day-to-day that could be the culprits behind your throbbing temples.