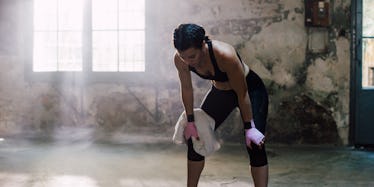 5 Ways To Harness Your Stress & Let Your Frustrations Out In Your Next Workout
You know when you have a kickass workout planned that you're actually, dare you say, excited for? Like, for once, you can't wait to hit the gym and sweat it out. But then, a busy day at work keeps you past your usual clock-out time, your BFF tells you she basically needs you to help her get her life together, and the only thing you have in the fridge to hold you over for dinner are stale sweet potato fries. Life has a way of stressing you out more often than not, which is why it's important to know how stress affects exercise so you can try to prevent it from getting in the way of taking care of your body.
According to Mayo Clinic, stress symptoms can affect your entire being, including not just your thoughts and feelings, but your behavior and your physical body, too. Moreover, a study published in the Journal of Sport & Exercise Psychology revealed that, even though exercise is commonly used to relieve stress, too much anxiety can definitely get in the way of squeezing in a sweat sesh.
While stress is essentially just a way of life for many of us, it can still do much more harm than you might think over time. From impairing concentration and focus, to slowing muscle recovery time, it can seem like stress and exercise are in a constant battle with one another.
But if you listen to your body and tune in to the kind of stress that's plaguing you, you might just be able to pick and choose the optimal exercises that feel best for you.
Here are five ways to harness your stress into your next sweat sesh and say adios to anxiety.