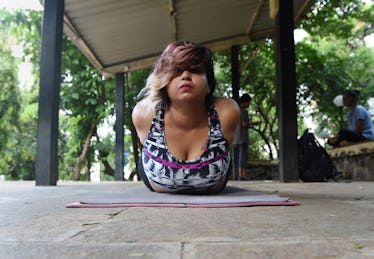 5 Workouts To Do When You're Stressed Out And Can't Get Yourself To Focus On Anything
INDRANIL MUKHERJEE/AFP/Getty Images
From lack of proper shut-eye, to a heavily packed work schedule, to road rage during rush hour, to life just being busy AF in general, some days can leave you feeling like you're a living, breathing ball of stress. And TBH, when you feel that overwhelmed, it can be tempting to cancel that workout you were planning to crush at the end of the day. But this is actually the time when your body and mind need that exercise the most. That's why finding the right workouts to do when you're stressed will be a total game-changer when it comes to relieving tension and anxiety.
When stress comes creeping in, it can present itself in both physical (aka headaches and tense muscles) and mental ways (such as a total inability to focus on your usual tasks and responsibilities). It's a vicious cycle most of us know all too well. You're stressed because you're busy, but you're also too busy to be that stressed out and distracted in the first place.
However, according to the American Psychological Association, exercise has a way of biologically toughening up the brain and increasing focus and energy, so that the impact of stress feels a little lighter on you overall.
With that in mind, here are five workouts you should incorporate into your routine when you're feeling majorly overwhelmed. All those sweat-infused endorphins are about to become your absolute besties in life.