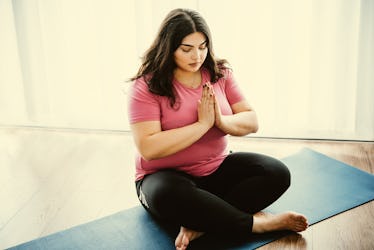 8 Little Changes To Make In Your 2018 Workout Routine If You Got Bored Last Year
Shutterstock
When you dive into a new year, you'll likely find yourself being bombarded with countless tips and tricks on how to best carry out your resolutions, especially the ones related to your health or your workout routine. But if you already have a routine in place that you feel comfortable with, you might shrug off the advice and keep doing you. But why not consider some of the tips on how to improve your workout in 2018? Because, let's be real, even if you're not bored with your routine now, chances are, things will eventually get monotonous and boring.
Now, no one's saying you need to toss your trusted routine out the window completely in the name of the new year. But there are a few simple adjustments you can make to guarantee you're always looking forward to sweating it out, and never dreading it.
A workout should never feel like a chore. It should be something you genuinely look forward to doing, even on an off day. Moving your body in ways that you love, and finding new ways to challenge yourself through exercise, feels incredibly rewarding both mentally and physically. The moment you start to feel like you're just going through the motions in a workout, is the moment you need to stop and figure out how to fall back in love with movement
If and when that does happen to you, try making any of these eight simple changes to banish all the boredom in your fitness routine and restore your motivation to move.