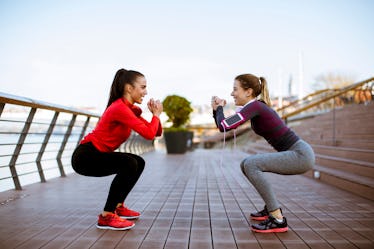 6 Must-Have Qualities You Should Look For In A Workout Buddy
Shutterstock
There's nothing like a good workout.
Those sweaty, satisfying, endorphins can leave you feeling good for days, even if you're left struggling to make it up your five-floor walk-up after the fact.
Even though you know how good you'll feel after busting your butt on the elliptical, sometimes you still need a little extra push to get motivated.
A workout buddy can immediately make going to the gym seem way less like a chore, and more like another means of hanging out with a friend. And they'll definitely come in clutch on those days when the last thing you want to do is work out.
But, much like your ominous freshman year roommate decision, you must choose wisely.
Here are six must-have qualities to look out for in a true swole-mate.
1. Motivation Nation
Like I said, some days, you just don't feel like making the trip to the gym, and those are the times that you'll need some serious motivation.
When you call your buddy up and tell them you just want to lay in bed with a loaf of bread, you don't want someone who says they'll come join you and skip out on leg day (OK fine, maybe you want that occasionally).
Choose a friend who will pump you up, and save the bread for after the booty work.
2. Reliability
You've got your Lulu leggings on, you've had your pre-workout snack, and you've maybe even foam rolled a little bit to warm up.
You text your gym partner about how excited you are to try out this new HIIT routine together... and then nothing.
Your supposed partner-in-crime is simply nowhere to be found, and they're ghosting you harder than that f*ckboy you were too hung up on back in college.
Make sure you choose a buddy who's actually reliable, so you're not left psyching yourself up for every burpee set.
3. Right Place, Right Time
You have to find a friend with a similar schedule to you.
As much as you may love working out with your friend who works the night shift at a radio station, the two of you are only able to make your schedules work together once a week, if that.
No matter how much you love them, it's just not meant to be.
4. #Goals
An ideal workout buddy will share similar fitness goals with you, and they'll be just as invested in the partnership as you are.
It's like marriage, minus the wedding cake, plus the protein shakes. Your gym spouse should feel devoted to your success and cheer you on as you get closer to your goals.
Oh, and they definitely shouldn't be afraid to call you out when you're slacking.
5. Healthy Competition
Guys, there's actual science behind this one.
The Köhler Effect is a phenomenon discovered by German psychologist Otto Köhler, who found that weaker people persisted longer within a group in contrast to working out alone.
A person who's not afraid to go the extra mile (literally) will make you work harder towards your goals. Choose someone who will push you to be your best, and a little more.
6. Attitude Is Everything
At the end of the day, it all comes down to attitude.
Who's going to cheer you on when you just can't get through that final ab circuit, or tell you you're stronger than you think when you choose the lighter set of weights? That's what your swole-mate is there for.
Finding your perfect match can feel a bit like a a series of "left swipes" on Tinder, but once you've found your person, you won't be able to resist saying "I do."