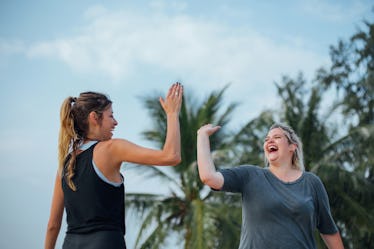 These Workout Quotes Are Exactly The Motivation Your Zodiac Sign Needs To Slay Your Next Sweat Sesh
You know those days when it feels like you've literally been lying in bed for a century, Netflix has asked if you're still watching way more times than you're willing to admit, and you're honestly not sure if you'll ever be able to convince yourself to put on a pair of pants? Laziness gets the best of all of us from time to time, and when you get in one of those funks, the mere thought of squeezing in a sweat sesh can be downright appalling. That's where these motivational workout quotes for each zodiac sign come in. They're exactly what you need to get your ass out of bed and slay all of your fitness goals.
Astrology can provide you with deeper insight into just about everything in your life, from your morals, to your quirky characteristics, to strengths and weaknesses you may not even know you have. The stars have a way of knowing exactly what makes you tick, even on your least inspired, laziest of days.
So we've got you covered with a motivational quote that will get each zodiac sign pumped as hell for even the most challenging of HIIT circuits on the most lethargic of days. You've got this, fam.