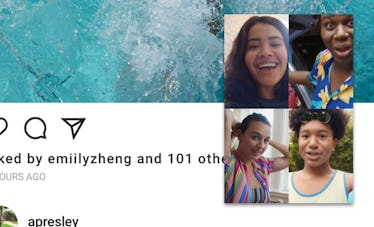 You Can Video Chat A Group Of Your Friends On IG Now, So It's Time To Catch Up
Instagram
Just weeks after Apple introduced Group FaceTime, Instagram is now rolling out a Video Chat feature that makes it so easy to catch up with your friends. Prepare to take your crew's group thread to the next level when you learn how to group Video Chat on Instagram Direct, because talking in real time is as simple as sliding into someone's DMs. Instagram's group Video Chat is available starting June 26, and calling your friends has never been easier.
The image-sharing company first announced that a group Video Chat feature was in the works on May 1, but it was quickly overshadowed by a slew of new features that were rolled out in June. Personalized mentions, Pride stickers, and the highly-publicized IGTV feature made headlines when they debuted. Now, Instagram's latest offerings show that the company isn't wasting any time when it comes to giving its users even more ways to interact and share content.
Starting on Tuesday, June 26, Instagram users can connect to their friends via video without using a phone number, according to a press release. Unlike FaceTime, which is geared only towards Apple customers, Instagram's group Video Chat is offered to both iOS and Android users who are on Instagram. There's literally no excuse not to catch up with your crew.
Here's how to start a video chat. Simply go to your Direct Messages and select a message thread with up to four people. Instagram now offers a new camera icon, which is located in the top righthand corner. Once you select it, your friend will be "called," and you can start chatting away. The video will keep expanding as more people join the conversation.
One of the really cool features of Video Chat is that you can literally see if other members in your group message are on a video call, because the camera icon will turn blue. To join, all you have to do is select the camera icon, and voilà, you're in the hangout. If you have to leave early or want to end the conversation, simply tap the red phone button at the bottom of the screen.
When I first learned about Instagram's new Video Chat feature, I'll admit that was a little wary, because you can technically video chat with anyone you have an active Direct thread with. In other words, people can try to video chat you just by sliding into your DMs first, and I can see this being a problem if you have an account where you either follow or are followed by people who you don't know. Luckily, you can get rid of any creepers by blocking their accounts so they won't be able to try to video chat you. In addition, you can also "mute" people if you don't want to get call notifications from them. To customize your notifications, select the "gear" icon and change the Push Notifications in the new video chat section.
Another cool feature about Instagram's Video Chat is that unlike FaceTime, you can still see the group chat when you're minimize the main screen and do other things on the app. According to a press release from Instagram, you can still "like" posts, send Direct Messages and photos, and post to your Story all while chatting with your besties. With the recent launch of the IGTV console on June 20, I'll be curious to see if you can multitask by watching longer form videos on there as well. Whether you're checking out a workout class, a makeup tutorial, or a cooking show, you'll now be able to share all those experiences with your friends in real time. Now, if only I could video chat up to 32 people at one time.