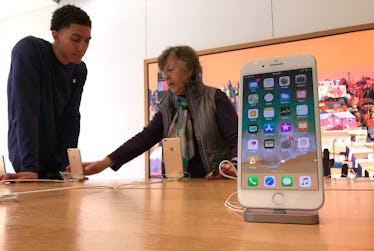 The New iOS Update Will Let You Group Facetime, So Get The Squad Ready
Justin Sullivan/Getty Images News/Getty Images
It honestly feels like Apple comes out with a new iOS software update every other week, and more often than not I do my best to completely refrain from installing them. But the announcement of the arrival of this newest update that was announced by the tech company on June 4 has features that will make me want to download it immediately. Group FaceTime will be available with iOS 12, and you better believe that I'll be utilizing this new feature as fast as humanly possible.
The operating system that runs on all iPhones and iPads will be available for download in September 2018, according to MacWorld. There are a ton of new additions and changes that will be a part of the iOS 12 update, but the most exciting new feature by far is the group FaceTime function. With this update you'll be able to video chat with up to 32 participants, which is actually bananas.
If you're in your mid 20s and have ever used ooVoo for video chatting — which only allowed five people to talk at a time, if I remember correctly — this announcement is seriously massive. I don't know if I even want to video chat with 32 other people all at once, but it's nice to know that the option is there.
The way that the multi-person FaceTime feature will function is also seriously cool. Apparently, each person in the conversation will have a square box on the screen with their face displaying their video, and all of the squares will float around on your screen together. Whoever is speaking at the time will have their floating box enlarged while they're speaking, which sounds like it'll make FaceTime all the more fun.
Texting will be more fun with this new update too. According to CNN, the camera in your Messages app will be revamped with new effects, filters, and other ways of customizing and personalizing a picture that you want to send to someone. Although this is definitely not as exciting as the prospect of FaceTiming 32 people at once, I can always appreciate new ways to make pictures funnier by using special effects.
Apple will also be adding a new series of Animojis for those that have the iPhone X. Aside from the new animals that will be added, you'll also me able to create a Memoji — essentially, and Animoji that looks just like you in emoji form. Personally, I think Animojis are super creepy. But if you love them then this is exciting news for you.
Aside from all the fun updates, iOS 12's new software will also allow you to see just how much you're using your device so that you can track how much time you spend with your iPhone or iPad in a day. If you're looking to cut back on phone usage, this tool is absolutely perfect for you. You will also be able to limit your usage of different apps in order to curb overall screen time in a day. So let's say you check your stats and discover that you're disgusted by how much time you spend on Instagram. With iOS 12, you'll be able to put a time limit on whatever app you choose — which I think is something that anyone can benefit from.
All in all, I'm pleased with the news of the iOS 12 update. Usually new software means that either my battery will start draining faster than it already does or my phone will be super glitchy until Apple creates bug fixes. But if group FaceTime comes with this package deal, I can handle a few glitches here and there.