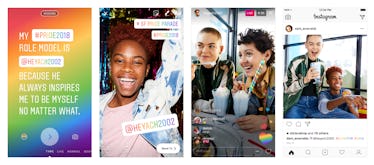 Here's Where To Find Instagram's Pride Features If You Want To Spread The Love
To celebrate Pride month this June, Instagram is releasing a few new Pride features to help you spread the love on the photo and video sharing app. From rainbow backgrounds to rainbow gradient text, Instagram has you covered with these colorful new additions. Not sure where to find the commemorative features? Not to worry, because they are easier to locate than you think. Here's where to find Instagram's Pride features so you can show your pride all month long.
First, you need to make sure you have the right type of mobile device. Instagram is only available on iOS and Android platforms. If you do not already have the app installed on your phone, pay a visit to the app store to download Instagram. Once that's all set up and you are logged in, it is time to show off your love and support for Pride month. If you already have Instagram installed on your phone, check to see if there are any updates to the app before proceeding. This way you know for sure that you are running the latest version of Instagram on your phone. However, keep in mind that the Pride features were originally released on Android phones, and will roll out in iOS throughout the next few weeks.
One of the coolest new Pride features can be found in the Stories section of the app. Open the Instagram app and swipe to the right, or click the camera icon in the upper left hand corner. This will open up a camera screen. At the bottom, you should see the word "Type." Slide over and select this mode to check out the new rainbow background. Type your message of support for Pride month, and click the arrow located at the bottom middle of the screen to preview your Story post. Does it look good? If you are ready to add it to your story, click the "Send To" button in the bottom right corner. Now, your Pride story can be seen by your followers.
The celebration does not stop there. In addition to the rainbow background, Instagram is also rolling out rainbow versions of the mention, hashtag, and location stickers in Stories. This way, you can share the Stories of your friends and followers who inspire you. Following the same instructions as above, open up to Instagram and swipe to the Story feature to snap a picture or take a video. You don't need to be in Type mode for this one. I recommend using Focus mode for a snazzy picture or you can shoot a quick video in the Normal setting. It's really up to you.
Anyway, once you've done that, tap the smiley face icon located in the top right of your screen. It should be the first icon in a line up of three — right next to the writing icon. That will open up a window that takes up about half of your screen. That's where you'll find the options to mention a friend, add the #Pride2018 hashtag, or click location to tack on a sticker to your story. So how is this different than normal? These all feature rainbow-colored fonts to give your story an extra something special to celebrate Pride month.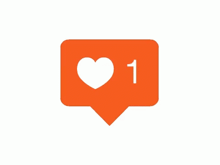 Additionally, you can show your love when someone is Live on Instagram. When you are watching a livestream on the app, tap the heart to see each color of the Pride rainbow appear. Pro tip: If you hold down the heart, it will send a cascade of rainbow hearts to the person you are watching, as well as everyone else who is tuned it with you. So cool, right?
Last but not least, Instagram partnered with GLAAD to determine specific hashtags that help connect people in the LGBTQ community. Instagram is giving the designated hashtags a bit of flair with a rainbow gradient-colored font. Try it out for yourself with hashtag #Pride2018.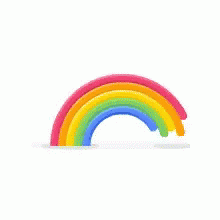 Well, there you have it. If you are celebrating Pride month, make sure to incorporate some of Instagram's newest features to really show your support. If you don't see the new additions in your Instagram account just yet, keep checking back for updates. Instagram said the rollout may take a few weeks before it makes its way to everyone's phone.