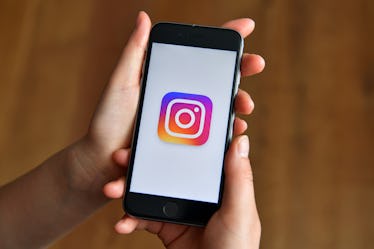 If You Don't Have Focus Mode On Instagram Yet, There Are A Few Reasons Why
Carl Court/Getty Images News/Getty Images
All of your friends seem to have Instagram Focus, but for some reason you don't. What gives? I know, I know, you're eager to snap the perfect selfie to throw onto your Instagram Story. Instead you're left to wonder, "Why don't I have Focus mode on Instagram?" There are a few possible reasons why you might not have the Portrait Mode-like feature just yet, and I'm here to help you figure it out.
Instagram's newest feature, released in early April, is the perfect way to step up your selfie game. Similar to Portrait Mode on the iPhone, Instagram's latest function makes your face the focal point of each photo by blurring the background, leaving you with a super crisp and professional high-quality photo. Except now, you can save a little time without have to use your phone's camera app for the perfect picture. You can snap a photo of your beautiful face right on Instagram and upload it directly to your Story, or send it to all of your friends on Instagram Direct.
Oh, and did we mention Focus works with the back camera and in video mode, too? The possibilities are endless. With quality this good, you might just fool your friends into thinking you're a professional photographer.
If you still don't have Instagram Focus, here is how you can troubleshoot the issue.