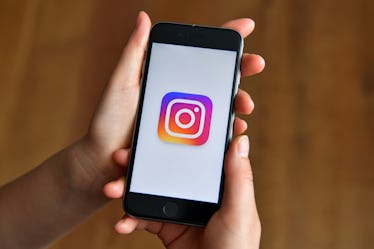 Instagram's New Feature Will Make Your Selfies Look So Professional
Carl Court/Getty Images News/Getty Images
Forget hiring a professional portrait photographer, because Instagram's new Focus feature is all you need to step up your selfie game. The new camera format, announced on Tuesday, April 10, brings high-quality photography directly to the social media photo and video sharing app. Great news, right? Before you grab a friend and show off those pearly whites, you should know how to use the Focus feature on Instagram to snap your very best selfie yet.
For starters, check to make sure your app is up-to-date, because you might not see the Focus feature if you haven't installed the recent update. Still not seeing anything? Check to be sure your smartphone is compatible with the update. For now, Focus only works on the following devices: iPhone SE, 6S, 6S+, 7, 7+, 8, 8+, and X, as well as select Android devices. If you don't have one of those smartphones, text a friend ASAP so you can try it out and see what the hype is all about.
Instagram's Focus camera format rivals Portrait Mode on the iPhone, so you could think of the two as incredibly similar. Except now, you can save yourself a little time by taking your professional-looking selfie directly in the Instagram app. Of course, this is as opposed to snapping the pic in Portrait Mode and then uploading it to your Instagram Story. Both serve different purposes, but are pretty much the same in terms of looks.
Here's how to take your first selfie using Instagram's Focus tool. When you are in the Instagram app, open the camera and and slide on over to "Focus," nestled right between the Boomerang and Superzoom camera options. You'll notice that your face is in focus, but the background behind you is gently blurred. So profresh, right? Click the button to take your best selfie yet. See how it's similar to Portrait Mode? Lookin' good. I should note that Focus works with the back-facing camera as well, but seriously — who doesn't love a polished selfie?
What's even more impressive about this update is that it also works with Instagram's built-in video feature. Simply hold down on the button just as you would normally. Trust me, no one will believe you shot this on your phone.
Before you upload your photo or video to your Instagram Story or send it to friends using Instagram Direct, get creative with it by adding filters, stickers, and text to really embellish your self-produced creation.
Oh by the way, did we mention that Instagram is also rolling out @mention stickers for iOS users? The addition to the app will make it even easier to connect with your friends in your stories. So maybe hold off another minute until you upload that latest selfie of you and your BFF. Once you've taken the pic, open up the stickers tray and click on the @mention sticker. The username of the person you want to tag should populate as soon as you begin to type it, so just click on the account and place the @mention sticker wherever your heart desires.
These are just the latest changes the Instagram app has undergone. Recently, news circulated that the social sharing app is working to roll out Instagram Nametags. While representatives from Instagram did confirm they are testing the feature, no more specifics were given. Based on what I can tell, Nametags will work in a very similar manner to Snapchat's Snapcodes. Also, there were murmurs that Instagram switched up its beloved font, and users were not happy about it. Though, the Focus camera tool is a welcomed new feature that I know I'll be using on the regular.