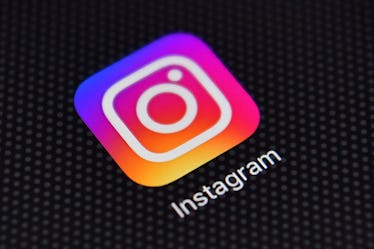 People Think Instagram Changed Its Font & They Aren't Too Happy
Carl Court/Getty Images News/Getty Images
Eagle-eyed Instagram users have noticed a recent change concerning the look of the app, and they have taken to Twitter to figure out what is going on. People are reporting a change in the app that makes it look like the font used for usernames is bolder than it used to be, and people do not seem pleased with the apparent change. So, did Instagram change the font?
The tweets about the apparent font switch started on Monday, April 9, and many users are confused about the change they have noticed. Since the difference between the old font and new font isn't too drastic at all, many people were tweeting about it simply to confirm they weren't seeing things. From the number of people talking about the font change, it appears something may have changed. Elite Daily reached out to Instagram about the rumored font change, and the company has confirmed a "slight change" on the app due to some changes in iOS 11.2.
I admittedly spend way too much time on Instagram (trying to keep up with all the Instagram Stories is hard work, OK?), but I didn't notice the font change right away. After going through dozens of tweets about the subject, though, I definitely notice the slight font change.
"Instagram tweaked its font on iOS? Looks more bold."
"Instagram changed their font on the low, or are my eyes just trippin'?"
"For real tho is it just me or does Instagram now use a different font?"
People were seriously concerned that they were going crazy.
"Omg I thought I was crazy for questioning the font change on Instagram until I came onto Twitter."
"Did Instagram make their font slightly bolder? Or am I crazy?"
"Did Instagram change the font of usernames/captions/comments..."
While some people weren't too sure if they really noticed a difference in the Instagram font, others were convinced Instagram made a change and tried to slip right it right past them.
"So Instagram thought we wouldn't notice the bolder font update, OK."
"I swear the font on Instagram has slightly changed, and it's annoying me..."
"I think Instagram changed its font. Looks like I'm using IG on a jail broken Android phone."
"Did Instagram change their font or something with that new update? 'Cause something is different and I do not like it."
While there are plenty of not-so-great opinions regarding the apparent font change, there are at least a few Instagrammers who are totally here for this apparent switch.
"Ohhhh new Instagram font!"
"Absolutely diggin' the new bolded fonts on Instagram."
If you're now font-obsessed after noticing this change, you can play around with different fonts on your terms in Instagram's "Type" mode feature. You'll recall that Type mode arrived in an Instagram update back in February, and it allows you to type out messages in different fonts while using the Camera function. So, you can have all the fun with the Modern, Neon, Typewriter, and Strong fonts in the Type mode feature (and make your fonts as bold as you want).
If you want even more ways to jazz up your Instagram Stories, you can also add the newly reintroduced GIF stickers for a little animated fun. If you're not familiar with GIF stickers, they are animated stickers you can add to Instagram Stories or Direct Messages to help liven up your photos and videos.
So, if you're super tripped out by this slight font change in the Instagram app, you can always take a break from the timeline and spend time playing around with the features you know and love.