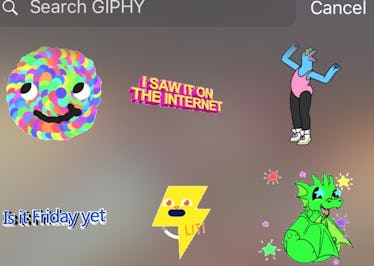 Rejoice: GIFs Are Back On Instagram, So Have Fun Decorating Your Stories
You might have recently noticed that you haven't been able to insert your favorite GIF stickers into your Instagram Stories lately. While it's true that has been the case for a few weeks now, there is some good news on the horizon if you cannot imagine going one more day without GIF-filled Instagram Stories. With a teaser like that, there's probably one question on your mind right now. So, are GIFs back on Instagram?
Yes, GIF stickers are back and ready to help you totally up your Instagram game (once again). While the GIFs were only gone for a few weeks, it was a noticeable absence for avid Instagram users. The problem started on March 8, 2018, when one user uncovered a racist GIF in Instagram's GIF sticker library powered by Giphy. Speaking to the offensive GIF, Giphy apologized in a statement:
Before we get into the details, we wanted to take a moment and sincerely apologize for the deeply offensive sticker discovered by a user on March 8, 2018. To anyone who was affected: we're sorry. We take full responsibility for this recent event and under no circumstances does GIPHY condone or support this kind of content.
The content was immediately removed and after investigation a bug was found in our content moderation filters affecting stickers. This bug was immediately fixed and all stickers were re-moderated.
We have also finished a full investigation into our content moderation systems and processes and have made specific changes to our process to ensure something like this does not happen again.
Instagram also released a statement to Elite Daily after turning GIPHY back on in its library. The statement says, "We've been in close contact with GIPHY throughout this process and we're confident that they have put measures in place to ensure that Instagram users have a good experience."
When Elite Daily inquired about Snapchat welcoming GIFs back into its library, GIPHY said, "GIPHY has updated its Sticker moderation as part of our commitment to deliver the highest quality content to all of our integration partners. We trust and respect their individual processes and timelines for implementation, and any specific platform inquiries should be directed to them."
It sounds like things are back in order so that you can continue adding all the Drake GIF stickers to every single Instagram Story you post. (OK, there are other options, too — but I highly recommend a Drake GIF in pretty much any situation.)
If you weren't in on the Instagram GIF sticker game before they were gone for a minute, then now is the perfect time to learn all about them. Instagram first introduced the GIF stickers on January 2018. To make sure you can access the newly reintroduced feature on Instagram, you'll want to make sure that you've updated the app in the App Store.
Once your Instagram is up-to-date, you can access the GIF stickers when you're in camera mode in the app. You can take a photo or video (or choose one from your camera roll), and then it's time for all the GIF fun. You'll have all the GIFs powered by GIPHY at your fingertips once you tap the Stickers icon and choose "GIF" in the second row of Sticker options.
You can search within the GIF function, too. So if you don't want to only choose from trending GIFs, you can search with a specific word or phrase to really make sure the you're getting the GIF stickers that relate the most to your Instagram Story. For example, if you search "effects," you'll get options of GIF stickers like super pretty sparkles, confetti, and glitter. If you search "Word Art," you can find fitting animated exclamations like "LOL" and "OMG."
I don't think you can really go wrong now when it comes to these newly improved GIF stickers. It seems like you're bound to find a GIF that is perfect for your Story no matter what you're searching for.
For Instagrammers who aren't big on the Story scene, you can still use the GIF stickers in the camera feature and then either save your creations or send them to your besties with Direct Message.
So whether you're peppering your Instagram Story with endlessly fitting Drake GIF stickers or you're in the best Direct Message conversation ever that solely consists of your BFFs sharing shirtless Ryan Gosling GIFs back and forth, you can rejoice in the return of GIFs on Instagram.