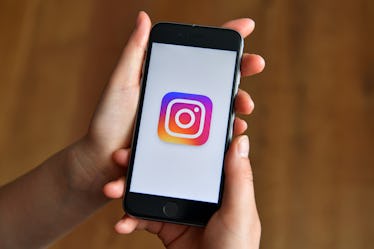 Instagram's New Feature Will Make Your Thirst Traps Even Better
Carl Court/Getty Images News/Getty Images
The advent of GIFs was probably the best thing to happen to texting thus far (in my opinion). If you are stumped as to how you want to respond to someone or if you really want to show your bestie some support with a classic Ryan Gosling "Hey Girl," GIFs are the answer. Well, get ready for even more good GIF news because now you can use your go-to form of communication in your other favorite app: Instagram. Once you learn how to get Instagram's GIF update, you'll be on your way to creating the funniest Instagram Stories yet.
You're likely already a pro at crafting the perfect Instagram Stories that keep your followers glued to their screens, but the addition of GIF stickers will definitely help you take it to the next level. Beginning Tuesday, Jan. 23, you can add animated GIF stickers, which are supported by Giphy, to photos and videos that you want to add to your Instagram Story or send in a Direct Message, according to Instagram. All you need to do to get the GIF stickers is make sure that your Instagram app is updated with the latest update in the App Store.
Once you update Instagram, the new GIF sticker option should appear in the camera section of the app, but if you don't see it immediately, you can restart the Instagram app and try again. Patience is a virtue, my fellow Instagrammers.
If you're stumped as to which GIF sticker will best complement your #reunited photo with your college crew, you can always use the search tool to find the perfect GIF sticker for every moment. According to Instagram, there are a few specific searches that will populate some of the coolest results.
To really jazz up your posts and convey all the excitement, search "effects," and you can add some animated flavor to your photo with sparkles, confetti, or glitter (yes, please!). Searching "accessories" in the Giphy search tool will give you GIF stickers that can be layered over faces — like sunglasses and hats. Or, if you're really not feeling your lip color at the moment, throw a pair of GIF lips over your pout and you're all set.
Other GIF sticker options include searching "Word Art" to add fitting exclamations like "LOL" and "OMG." (Oh, and even though they share the same moniker, this won't be the same "WordArt" that you used in every Microsoft PowerPoint presentation ever). Of course, no Instagram photo is complete without an emoji, right? To fulfill your emoji needs, the Giphy search tool even has specialized emoji sets so you can Instagram to the fullest extent — cue the heart-eyed emojis.
With the update, you can also browse which GIFs are trending in pop culture, so if you're really stumped when it comes to dressing up your Instagram Story with GIF stickers, you can play it safe with the most popular GIFs of the moment.
And if you're not big on the Instagram Story scene, you can still access the GIF stickers in the camera in the Instagram app and send it via Direct Message or save it to your camera roll and upload to your Instagram feed whenever you want.
Instagram has reportedly been testing GIF stickers for awhile, according to The Next Web. Back in November of 2017, some users were seeing the GIF stickers in what was presumably the test version. Since the official Instagram GIF stickers feature rolls on out on Tuesday, Jan. 23, the reported testing presumably went very well.
Either way, you can now enjoy all the fun (and all the likes) that Instagram GIF stickers have to offer in the official update.