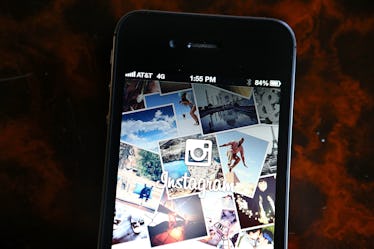 There's A Serious Reason Why You Can't Get GIFs On Instagram & Snapchat Right Now
Justin Sullivan/Getty Images News/Getty Images
Within the past year, both Snapchat and Instagram have definitely upped the ante on photo and video messaging. So far, they've allowed users to add filters, fonts, and stickers to Stories and Snaps. In my opinion, one of the coolest features actually allowed users to add little moving stickers to their photos. But if you're wondering why you can't get GIFs on Instagram and Snapchat anymore, it's because the feature was temporarily pulled... and the reasoning behind it is pretty shocking.
According to a report by The Verge on March 10, users discovered a racist GIF in their libraries after searching the word "crime." TechCrunch first reported the news, according to The Verge, but their post has seemingly since been deleted. Elite Daily reached out to Tech Crunch for comment, but has not heard back by the time of publication.
Instagram has pulled GIPHY from their application until further notice. An Instagram spokesperson tells Elite Daily, "This type of content has no place on Instagram. We have stopped our integration with Giphy as they investigate this issue."
Snapchat has also pulled GIPHY from their app. "We have removed GIPHY from our application until we can be assured that this will never happen again," Snapchat said in a statement. A Snapchat spokesperson tells Elite Daily that the GIF should have never appeared on the app and that the company is sorry for it. Snapchat has worked with GIPHY to remove the GIF so it no longer appears on the app, the Spokesperson confirms. GIPHY's Community Guidelines don't allow slanderous or racist content. An excerpt says, "GIFs are meant for everyone, so we don't allow any that slander, demean, or belittle another group or person based upon their race, religion, gender, or sexual orientation."
Both Instagrammers and Snapchatters were incredibly disappointed by the discovery and made sure to voice their complaints over social media.
Per The Verge, Twitter user @LyaunaAugmon tweeted a screenshot of the reportedly offensive GIF and tagged IG creator, Kevin Systrom. (Augmon has since made her Twitter account private.) Other users, such as Twitter user @Toridillaz, also expressed their disgust for the offensive GIF, saying, "If anyone was wondering why you can't post Gifs on Instagram story anymore, it's bc there was this racist gif on @GIPHY! Smh!"
Elite Daily reached out to GIPHY for comment, and a spokesperson said they removed the offensive sticker from the GIPHY library. They explained the GIF wasn't deleted as soon as it was posted due to a bug in their filter system. The GIPHY spokesperson continued to apologize with the following statement:
A user discovered an offensive GIF Sticker in our library, and we immediately removed it per our content guidelines. After investigation of the incident, this Sticker was available due to a bug in our content moderation filters specifically affecting GIF Stickers. We have fixed the bug and have re-moderated all of the GIF Stickers in our library. The GIPHY staff is also further reviewing every Sticker by hand and should be finished shortly. We take full responsibility for these recent events and sincerely apologize to anyone who was offended.
All GIFs in the Snapchat app are supposed to be rated PG. According to ConnectSafely.org, the reason for this is that nobody under the age of 13 years old can create a Snapchat account, in compliance with the Children's Online Privacy Protection Act (COPPA). Snapchat integrated with GIPHY in February 2017, and it's unclear as to when they will actually re-integrate.
If you never even knew that there was a GIF feature on Instagram, it was located in the camera section of the application. Users could also find a specific GIF sticker by using the search tool. Using the GIF feature on Snapchat was just as easy. After taking a Snap, users could go to the Stickers section and either pick one from the library, or search for whatever they were looking for. It was a fun and easy feature — and until both apps decide to introduce GIFs again (if they even do), us Instagrammers and Snapchatters will just have to stick to regular emojis and filters.