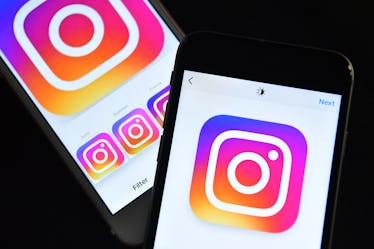 Deleting Instagram Highlights Is Super Easy, So Don't Panic If You Messed Up
Carl Court/Getty Images News/Getty Images
Back in the day, there were a lot more ways to embarrass yourself on Instagram than there are now. For example, before one could simply zoom in on a photo, users ran the risk of having their parents try to zoom in on a photo and accidentally liking it (so awkward... thanks mom). The latest (and probably the most embarrassing) thing you could accidentally do on Instagram now is adding a random Story of yours to your own Instagram Highlights. But if you end up doing so by mistake, here's how to delete Instagram Highlights. Trust me, it's way easier than you think.
So, it looks like you accidentally managed to add one of your many past Instagram Stories to the Story Highlights section on your Instagram page. Oh, the agony. I mean, there's a good chance that you really don't want that drunk Story from last weekend to haunt your page forever, and hey, that's totally understandable. Even though accidentally adding it to your page might seem like the end of the world, don't worry — it really isn't. Almost everything is reversible as long as you know what you're doing. Now, there are two different ways you can delete a Story from your Story Highlights, and it's totally simple. One way is to first go to your Instagram profile, and navigate to Story Highlights. Then, you'll hold down said Story from your profile page, and click "Delete Highlight." And presto, it'll be gone forever. See? I told you it was that easy.
The other way to combat this (super fixable) issue is literally just as easy. Simply tap the Highlight so it fills your whole screen with the video or photo. Then, you'll tap the three vertical dots in the bottom right hand corner, and you'll click "Delete Highlight." And voila, that'll be the end of it. I know it sounds really simple, but that's literally what I've been telling you from the start, isn't it?
If you were never actually sure how to add Stories to Story Highlights on your Instagram profile, you're in luck, because it also happens to be a shockingly simple process. First, head to the Highlights section, which is under your IG bio. Then click "New," and choose an IG Story of your choice from your Story Archives. After selecting your Story of choice, click "Next," and you'll add a title, as well as cover photo for the Highlight. Finally, you'll click "Done," and then "Add."
Instagrammers — particularly those who love their Story Highlights — were in a panicked frenzy on Tuesday, April 3 when a glitch prevented them from seeing their Instagram Story Highlights on their own pages. However, Instagram heard their audience's devastated cries and quickly fixed the problem. They also issued a heartfelt apology for all of the pain and inconvenience, and recommended that users restart the app to see their Highlights. The company tells Elite Daily, "We discovered a bug that temporarily prevented some users from being able to see their Highlights. We quickly issued a fix to restore Highlights for everyone. We apologize for any inconvenience this caused." If you were one of the many affected by the tragic IG bug, my utmost condolences to all of you. Based on the horrified reactions, I know that it was a pretty rough time for everyone involved.
Maybe that Story you accidentally added to your Story Highlights was super embarrassing, but calm yourself: Removing it is a super quick and easy fix. If you haven't started adding them to your profile yet, I highly recommend it, because sometimes Instagram Stories are so good that they need to live forever and ever.