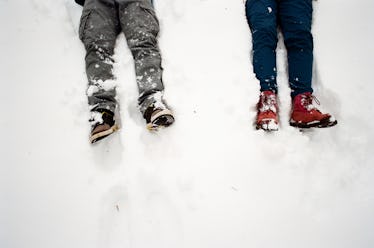 5 Ways To Get More Matches During A Blizzard When You Want A Snow Buddy
When it comes to using dating apps during blizzards, I'm going to go ahead and not so humbly say I'm an expert. Having lived through my fair share of brutal winters in both Boston and New York City, I've learned a thing or two about how to successfully swipe through snow storms. The results have included free pizzas and dates in empty dive bars; 10/10 would recommend. So if you've been wondering how to get more Tinder matches during a blizzard — Blindering, if you will — I've laid out step-by-step instructions to help you snag those pizzas and dive bar darts, too.
I should also note that Blindering (yes, it's a thing now) is about way more than hookups. It's an opportunity to escape your stuffy apartment and grab a beer at that bar around the corner, or find a puffer coat-wearing buddy who will make snow angels with you in the park — no pressure to spend the date posted up in either of your apartments. (But, um, if you are looking for a hookup, you can also make those snow angels in your bed. Just saying.)
No matter what you're after this winter, here are five easy ways to boost your matches during a blizzard.
1. Tell 'em what you want (what you really, really want).
Spice Girls' lyrics aside, the easiest way to increase your matches during a blizzard is making it crystal clear to fellow swipers that you're down to hang out right now. Swap The Office quotes in your bio for a silly pun or pick-up line that lets guys and girls in your area know what you're after, whether that's a free pizza, a hookup, or a snowball fight. Plus, including anything in your bio will help increase your odds — studies show that profiles with bios bring in four times more matches than those without.
If you need a little inspiration, here are some potential lines to put in your bio during a blizzard.
2. Adjust your distance settings.
Yes, matches are at an all-time high during snowstorms. (In 2016, over 10 million matches were made on one app during Winter Storm Jonas; that's 3.3 times more than average.) But if you're looking for someone to hang out with during the blizzard — not just the satisfaction of that Ping, "It's a Match!" moment — I'd recommend limiting your maximum distance to 10 miles in cities (where you might be able to catch the subway or metro) and five miles in rural or suburban areas. No one wants to trek and trudge across town during a blizzard (and Ubers are hard to find and afford when the weather's gross), so don't bother swiping through profiles that are more than a few miles away.
3. Double-check your photos.
This one isn't specific to blizzard season, per se, but it'll still help boost your matches. Before swiping away on a snowy afternoon, double check that your dating app profile has a nice spread of photos.
What does that mean, exactly? Limit the mirror selfies and sratty group pictures from college — instead, include photos that speak to your personality (and, OK, maybe a thirst trap or two). It gives potential matches a sense of what you two have in common before you've even started chatting.
4. Swipe in the evening.
Similar to social media strategy, swiping at peak times — i.e. between 5 p.m. and 8 p.m. — will mean your profile's getting more eyeballs, which in turn means you'll get more instantaneous matches. If you know a storm is coming, start swiping the night before and see about lining up a date ahead of time.
5. Don't be too selective.
I've said it before and I'll say again: If you're hoping to get more matches, just. Swipe. Right. If you think someone's cute, and their profile doesn't include any major red flags or grossly offensive statements, just swipe right! More swipes means more matches, which in turn means more potential for sexy, blizzard trysts.
...and once you've arranged that tryst, why not warm up with these moves? Man, snow days are way more fun as an adult.
Check out the entire Gen Why series and other videos on Facebook and the Bustle app across Apple TV, Roku, and Amazon Fire TV.
Check out the "Best of Elite Daily" stream in the Bustle App for more stories just like this!