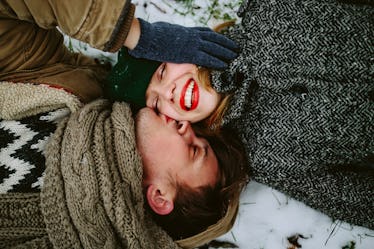 23 Dating App Bio Ideas For A Blizzard If You Want Company For The Snow
Blizzard season is fast-approaching, which means heavy parkas, duck boots, and — of course — sweaty, snowy hookups. Oh, yeah, that last one's a thing. After stocking up on canned goods and candles, "update dating app bio during a blizzard" should really be the next item on your winter storm checklist. Because, as any single person with thumbs and a smartphone can tell you, matches spike as soon as the snow starts falling (on one app, matches tripled during Winter Storm Jonas!).
Maybe it's instinctual (we could all use the extra body heat), or maybe it's because some dating apps will literally send around an alert saying that matches are at an all-time high, like a little Millennial mating call. Whatever the reason, blizzards tend to bring out the cuddliest and thirstiest sides in all of us.
Last February, with about three feet of snow falling outside of my Brooklyn apartment and zero leftovers in my fridge, I sweet-talked a handsome match into bringing me a large pizza (he ate one slice, I ate the rest — you're welcome for that mental image), watching reruns of The Bachelor, and petting my hair. It's probably the greatest interaction I've ever had with a man, and one I never would have experienced if not for the phenomenon that is swiping through a blizzard.
So next time your town is blanketed in snow and sexual tension, here are 23 hilarious lines you can throw into your dating app bio to snag a blizzard bae. Go get those pizzas, ladies.
For the women who aren't messing around.
"I've got a box of wine, some fluffy comforters, and a functioning radiator. So..."
"Let's chill (get it?)."
"Can we skip to the part where we're drunk and making snow angels?"
"All I'm looking for is someone to bring me a pizza right now." (I'm telling you, it works.)
If you're into NSA jokes.
(And really, who isn't?)
"So tired of guys who only pretend to listen. Let's get Edward Snowed-In, and maybe you can tap this."
If you're looking to lay a thirst trap in the snow.
"Ten bucks if you can guess which part of my body is the warmest."
"Winter is coming. Why shouldn't we do the same?"
"Call me frostbite, because I'll make sure you can't feel your legs tomorrow."
"Hoping tonight will be anything but silent."
"Like my sidewalk, I just want to get plowed."
"I just want to drink hot toddies and get to know each other's bodies."
"Looking to go for a ride this weekend... but not the sleigh kind."
"I'm wrapped up like a brrito, all I'm missing is u. Having some Chipotle wouldn't hurt, either."
If you love a good pun.
"Just looking for someone to hiber-mate with me."
"Let's get to snow each other."
"What's the best meal to eat in an igloo? Brr-kfast. Which we can enjoy together tomorrow morning."
"Is it too soon to say we're in glove?"
If you'd like to throw in some wintery song lyrics.
"Swipe right and make my hotline bling on this snowy night."
"Much like Beyoncé, I sleigh. All day."
"Baby, it's cold outside."
"In the immortal words of Pitbull, 'I came, I thawed, I conquered... or should I say I thawed, I conquered, I came.'"
For the ladies looking to break the ice (literally and figuratively).
"How much does a polar bear weigh? Enough to break the ice."
"Black ice doesn't have to be the only thing I fall for this winter."
Is it just me, or are things warming up already?
Check out the entire Gen Why series and other videos on Facebook and the Bustle app across Apple TV, Roku, and Amazon Fire TV.
Check out the "Best of Elite Daily" stream in the Bustle App for more stories just like this!