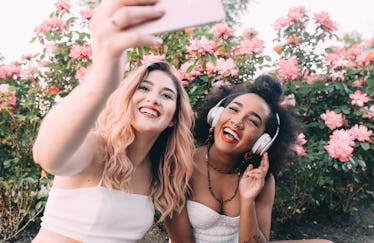 These Tinder Hacks Are A Surefire Way To Get More Matches
Does your online dating experience feel like you are swiping through the dregs of society who have been left behind by cuffing season? Well, wait a little bit longer before deactivating the app. There are a few Tinder hacks to get more matches that will actually help you meet up with interesting people. Even though it's challenging to connect with real humans through your cell phone screen, making your Tinder profile look authentic and real will help you come across as your truest self. And everybody knows that the true you is attractive AF.
If you are struggling to curate your online dating presence, ask a friend to help you craft a thoughtful, funny bio that will help you stand out from a crowd. Get together for a photo shoot day to spruce up your online image. When you do match with someone and start a conversation, be as authentic as possible in your exchanges, so people know they're actually talking to a human being. Don't you dare start off any conversation with a single "What's up?" Putting this amount of time and attention into your online dating presence might seem like a whole lot of effort for strangers, but you will thank yourself in the long run. A better, more rewarding Tinder experience is just around the corner if you follow these five simple strategies.
1. Avoid Lots Of Selfies
According to Brooke Wise, founder of Wise Matchmaking, instead of taking a selfie, you should have a friend take a great photo of you for your profile. She told Elite Daily you shouldn't have friends with you in the picture either. "Use a photograph that is the best, but accurate representation of yourself," Wise said.
Experts also say that you should choose a picture of yourself where you're smiling. "Make sure you look deliriously happy with a huge smile in your primary photo, instead of posting blurry shots, selfies, or pics with sunglasses," cyber dating expert Julie Spira told Elite Daily. So avoid the sexy pouts or the squinty beach pics, too.
2. Be Real
Even though you might have to fake a smile to get that awesome Tinder-worthy photograph, you should be as real as possible in your photos and in your description of yourself. "If you're a serious student and never go out for a drink, it's better to post an accurate picture of you behind your laptop with your organic chemistry textbook open," Lori Salkin, senior matchmaker and dating coach, said to Elite Daily.
Be real with yourself about your limitations as well. Don't put that you'd like to meet up for drinks in your profile if you hate going to crowded bars. You also shouldn't invite someone to go out dancing if you know you'll feel awkward and unconfident. For the right match, catching that movie you've been wanting to see or enjoying a quiet, intimate dinner will be just as appealing. In addition to attracting someone with similar interests, you'll be able to relax and enjoy yourself more.
3. Have A Positive Bio If you leave your bio blank, say that you "never know what to put in these things," or describe yourself as "average," you're going to look boring to anybody who swipes on you — and since you're not boring, that means you'll be selling yourself short. Similarly, don't put that you are "tired of being on Tinder" or spend too much time in your bio talking about what you're not looking for, even if you're exhausted by meeting up with folks who are completely wrong for you. Keep the focus on who you are and what you're into.
So what should you write in your Tinder bio? "Tinder users should make sure they are giving others a sense of their personality and interests through their bio," Tinder's in-house sociologist Dr. Jess Carbino told Elite Daily. "This also helps encourage matches to message you because they have information from your profile to spark a conversation."
4. Pick Quality Over Quantity
This is a trick that I picked up on from living in a small, Midwestern city, where I got frustrated with most dating apps' lack of prospects. I've also found it works in a city like New York, which is full of very attractive people who are also very busy and extremely hard to connect with.
Rather than swiping right on anybody who seems like they are attractive to you, hone in on the ones whom you're really interested in. Take time with reading their bios. When you find someone whom you actually think you might want to have a conversation with, that's when you swipe right. If you've put time and effort into curating your profile they'll probably swipe right on you, too, and with the energy you save not matching with people you're not actually interested in, you'll have the incentive to send them a great opening line.
5. Follow Up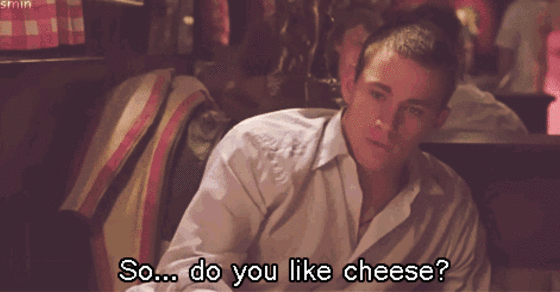 People often go on Tinder when they are bored or want a distraction. Then, they get busy. You can match with someone and have an amazing conversation while you're taking the train home and then forget about your phone as soon as you hit the house. That's the peril of dating in the age of smartphones, but you can counter it by following up on a conversation, even if it's fizzled out.
"By sending a brief text to re-engage and follow up, you can keep the conversation going. This also helps establish investment," Carbino told Elite Daily. If you think that following up (within reason) will look like you're pursuing someone too hard, don't worry about that. It's actually super flattering, and most people will appreciate the gesture. And if they don't, you wouldn't want to meet them anyway.
It might take time, and it could be a bit frustrating, but putting a little more effort into your Tinder profile can have big payoffs in the end. If you need proof, I'm living with a couple right now who met on Tinder, and they were basically made for each other. With a little bit of luck and selectivity, maybe you'll meet your next dreamboat on Tinder, too.
Check out the entire Gen Why series and other videos on Facebook and the Bustle app across Apple TV, Roku, and Amazon Fire TV.
Check out the "Best of Elite Daily" stream in the Bustle App for more stories just like this!