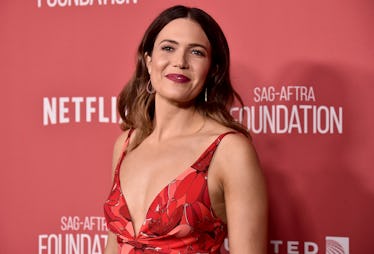 Mandy Moore Reveals Why She Loves Early Mornings So Much & Here's How You Can, Too
Frazer Harrison/Getty Images Entertainment/Getty Images
Adapting to a.m. hours as a natural-born nightwalker can feel a little like diving headfirst into the depths of the ocean without an air mask or flippers: It's a serious physical and mental strain. No, you probably won't pop up like a summer daisy, wake up on the right side of the bed, and stride through your day feeling like a champion at first, but eventually, you'll figure out how to enjoy your mornings, and those feelings of dread will subside for the most part. Trust me, it's possible.
On that note, however, I'm not naive. I know it can absolutely seem like a stretch from your comfortable position under the covers, but night owls can learn to love early mornings, too — not just tolerate them. Self-proclaimed early bird Mandy Moore recently sat down with Huffington Post to spill the tea on how she makes the most of her time in the morning, and even though the This Is Us actress peels herself out of bed anywhere between 5:30 and 6:00 a.m., when you consider her morning itinerary, it's no wonder she loves early mornings so much.
She told Huffington Post,
I think I have a new consistency in getting up early and feeling like I really did something with my day. It's a consistency I didn't really have before [This Is Us].
But this is a seven-plus-month commitment that's nonstop getting up and going. I love that and really crave that now.
The key is to make the most of the early hours at hand, rather than begrudgingly rise out of bed and continue to sulk through a shower and breakfast on-the-go. Here are a few tips to help you enjoy your mornings as much as Moore clearly does.