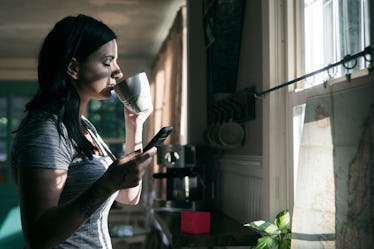 6 Benefits You'll Enjoy Throughout The Day If You Drink Apple Cider Vinegar In The Morning
Apple cider vinegar is probably the best liquid miracle you've discovered since you first found out about coffee. What's more, if you drink apple cider vinegar in the morning, you'll get way more than a simple caffeine high. ACV cleans your skin, boosts your energy, and gives you wings — wait, that last one is Red Bull. OK, so apple cider vinegar is pretty much the exact opposite of Red Bull, although it may organically start to give you metaphorical wings if you use it long enough. The health benefits of ACV are limitless, and all you have to do is choke down a nasty spoonful of straight vinegar in order to enjoy the perks! If you're not looking to be the tough guy, though, there are a bunch of other ways you can ingest ACV. Because who wants to start their day off with a straight shot of acid?
It might be a little rough going down, but it is so worth it to make apple cider vinegar a part of your regular routine — bonus points if you can specifically make it a part of your morning routine, because taking just a sip or two will work to wake you up faster than any alarm clock you've ever had. Here are five benefits you'll enjoy if you drink apple cider vinegar first thing in the morning.