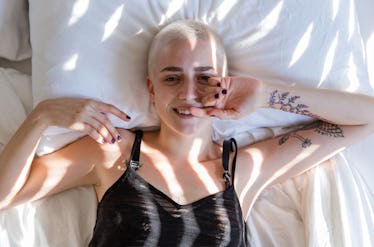 6 Ways To Wake Up Feeling Happy Even If You Cringe At The Idea Of Being A Morning Person
I'd be lying if I told you I've always been an early riser; that's just simply not the case. Up until graduation, I slept until noon on weekends, arranged my class schedule so I could sleep in until at least 10 a.m. if I could manage it, and took naps regularly on the days that started around 8 a.m. If you've ever found yourself researching how to be happy in the morning, trust me, you're not alone. Unless you're naturally a morning person, it can be challenging to lull yourself out of bed with a genuine smile on your face, but it's not impossible. All it takes is a little (or a lot, depending on how much you actually loathe a.m. hours) effort, and maybe an alarm clock with a disabled snooze button.
Allotting yourself an hour or two before rushing to get ready for the day to reflect or engage in a little self-pampering (imagine a quiet bubble bath with the morning sun peeking through the window, or finding a deep stretch in child's pose before rolling out of bed) can make a world of difference.
Yes, sleep is important, but so is seizing the day. It may seem like a chore at first, maybe even a little pointless if you begin by slowly rising a little earlier each day. But I promise you that waking up hours before noon, or even 10 a.m., will have you seizing the crap out of your day. Here are a few ways to ease yourself into it.