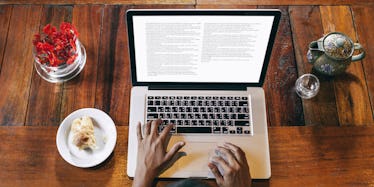 9 Delicious Breakfasts You Can Easily Prepare At Your Work Desk
I grew up in a household where Sunday breakfast was a big deal.
Like, Irish-family-big-deal.
Stemming from our European heritage, my mother's upbringing continued with mine, bringing us eggs, breakfast meats, bakery rolls, donuts, orange juice, coffee, or tea to a sit-down meal every weekend with my parents, sisters, and brother.
Maybe it's the emotional connection I have to breakfast, but I'll never miss the meal if I can help it. Not only can it make or break your day, breakfast foods are just the absolute best morning, noon, and night.
Unfortunately, working a 9 a.m. to 5 p.m. job doesn't always allow for a hearty breakfast at home, especially when you're juggling a shower, cosmetics, and commute time.
Don't sacrifice a well-balanced meal for on-the-go bars or other store-bought options that hardly offer any nutritional value.
Instead, give these nine recipes a try for simple meals you can make overnight or construct at your desk.
1. Loaded Sweet Potato
I've recently mastered the art of cooking sweet potato in the microwave, and I assure you, it will change your life for the better.
Back in college, I tried cooking potatoes in the microwave multiple times, and it never ended well.
The first went up in flames (I pierced it with a fork, I swear), and a dark cloud of angry smoke stank up the entire apartment. My apologies (again), roomies.
The second never made it past one minute of heat time because I became so nervous I just threw it out and made myself a sandwich.
However, I am now a married woman, and I've been picking up a few cooking hacks, courtesy of Pinterest and YouTube.
The trick to cooking a sweet potato in the microwave is actually very simple.
Cut your sweet potato in half or into coins, and wrap it in paper towel. Cook for five minutes, then turn pieces onto the opposite side for anywhere from two to five minutes more.
Bring toppings to work in a baggie to load onto your potato, such as coconut flakes, granola, trail mix, and individual nut butter packets.
2. Frozen Smoothie
Smoothie bowls are all over social media right now, but you don't have to be a work-from-home Instagram Influencer to indulge in all that fruity goodness first thing in the morning.
Prep your frozen smoothie the night before by whipping it up as soon as you get home from work, and storing it in your to-go cup in the freezer.
Right before you go to sleep, transfer the frozen smoothie into the refrigerator. By the time you're ready to head out the next morning, your smoothie should be at a solid consistency you can spoon into.
Fill a plastic baggie with toppings of your choice, load them on at the office, and snap that Insta photo.
3. Yogurt Parfait
Another personal favorite, yogurt parfaits are one of the easiest meals to throw together at the office.
All you'll need is one container of yogurt, a banana, and granola or dry cereal.
Cut up slices, and sprinkle on the crunchy clusters as you see fit, or bring a bowl to the office, and compile like a traditional parfait.
The variety of flavors is sure to satisfy all the taste buds.
4. Overnight Oats
Oatmeal is a staple office pick, no matter what season it is, because this treat can be eaten hot or cold.
While this option isn't necessarily "new," people have gotten mighty creative with flavor combinations and toppings. But we'll stick to the basics for now.
Mix half a cup of oats with one cup of the liquid base of your choosing (water, milk, almond milk, etc.). Add a pinch of salt and a tablespoon of natural sweetener, like honey or maple syrup, and leave it in the fridge to set overnight.
The oats will absorb the liquid base, and leave you with a full bowl of fluffy carbs.
If you want to be fancy, add fruit, coconut flakes, cacao nibs, chocolate chips, vanilla extract, cinnamon, Greek yogurt, chia seeds -- the list and potential combinations are endless.
5. Egg Muffin Sandwich
In a medium bowl, scramble whole eggs or egg whites with your choice of chopped up veggies (I've done a combination of red and green bell peppers, spinach, tomato, and kale).
From there, take a muffin sheet, and spritz with cooking spray. Pour the mixture into each cup, filling only about three quarters of the way, so that the eggs have room to rise and won't spill over in the oven.
I like to sprinkle a bit of shredded cheese on top of half the muffins, just to allow my palette a little variety.
Cook at 375 degrees Fahrenheit for 20 to 25 minutes, and let cool. Slip one egg cup in between an English muffin, and you've got yourself a super healthy and satisfying breakfast.
6. Baked Oats
Another whoops in the kitchen, this baked oats recipe is coming at you from a failed attempt at making homemade oatmeal bars.
In a medium bowl, combine one cup of oats, one cup of almond milk, finely chopped almonds, a generous sprinkle of cinnamon, and chunks of one skinless apple.
Allow the mixture to set for 10 minutes before scooping it onto a baking sheet covered with parchment paper and cooking at 375 degrees Fahrenheit for 30 minutes.
Halfway through, I took the mixture out of the oven and topped it with a crumbles of a peanut butter Perfect Bar, but you could also drizzle on any nut butter, as well.
Let it cool before scooping into a container and storing in the fridge.
This is really easy to heat up at the office the next day and, trust me, it smells delightful -- so much so that coworkers will ask if that's what's on the menu in the cafeteria today.
7. Avocado Toast
There's no shame in your avo-toast game! Bring it to the office, and show 'em how it's done.
Toast one or two pieces of bread at the office, and spread on half of an avocado. Sprinkle with hemp seeds, add slices of grape tomato, or even a hard boiled egg.
This option's super easy because everything can be transported in a baggie and constructed right at your desk.
8. Chia Seed And Berry Pudding
I recently came across this recipe while watching Boho Beautiful vlogs on YouTube.
A similar concept to overnight oats, chia seed pudding is literally made in your sleep.
In a food processor, combine your favorite frozen fruit (I suggest giving mango-raspberry a try) with a cup or so of almond milk.
In a to-go container, pour in the mixture and add a few tablespoons of chia seeds. Let it set overnight, and add toppings like cacao nibs, banana slices, or coconut flakes in the morning at your desk.
It honestly tastes like dessert, but instead, it's packed with health benefits like protein, healthy fats, and natural sugars.
9. Banana Waffle Breakfast Sandwich
I can totally sympathize if some days, you just want something sweet for breakfast.
Thankfully, frozen waffles are here to save the day as they, too, can be prepared à la microwave oven.
Wrap one or two (thawed) frozen waffles in paper towel, and cook in the microwave for 30 to 45 seconds. Continue heating in 15-second intervals until fully cooked.
Cut up one whole banana, and sandwich the slices between the waffles.
If you're in dire need of extra sweetener, scour your office kitchen for honey packets. Drizzle one packet over the banana/
I dare you not to inhale this whole thing in under a minute.