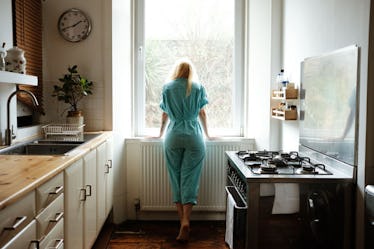 7 Ways To Enjoy Being By Yourself, If You're Living Alone For The First Time
So, here's the situation: You just got a new apartment, or maybe a cute loft in Los Angeles. (Any New Girl fans out there?) It was a dream to finally move out, and you're as excited as ever. Also, you're living alone. That's right, for the first time in years you're not going to have any roommates. You'll have neighbors, and your friends will likely come and hang on the reg. Otherwise, your time and space is all yours. You may be wondering how to enjoy being by yourself, because it's not so straightforward. This is all brand new to you.
You really got used to having roommates in college. So, living alone for the first time feels a little odd. There's nobody to hang out with when you're eating your waffles in the morning, but you can also sprawl out all over the couch and not worry about having to save a cushion for someone else. (Phew! That really was such a struggle.) You've discovered that being able to walk around your apartment without pants on whenever you want is really such a blessing. Maybe this won't be so weird, after all.
There's actually a lot of beauty in being able to enjoy time spent by yourself. If you're a social butterfly, you may hate the idea. Hear me out, though: There are seven ways you can enjoy your new apartment and alone time. It's all about you.