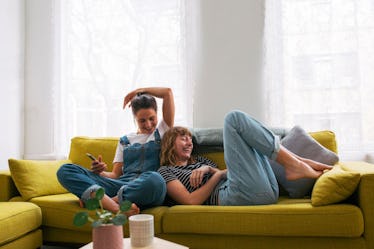 How To Stay Close To Your Sibling In Your 20s, If You're The First One To Move Out
Your 20s can be quite the whirlwind. You may go to college, or do a lot of traveling. You'll likely fall in and out of love, and make lots of new friends along the way. Moving out is always a milestone, and comes with a bunch of emotions, mostly because it means leaving your family for what's next in your future. Yes, you're not totally leaving them behind, but you can't imagine not living across the hall from your brother and sister. You're wondering how to stay close to your sibling in your 20s, especially if you are the first one to head out into the world. Sending memes just won't cut it on this one.
Maybe you're headed off to the West Coast, or checking out a new city that's a bit closer to home. You're beyond excited, and have been waiting for this moment for such a long time. It's bound to be quite the adventure, and you are looking forward to living with your besties or significant other in your own space. All of those IKEA catalogs and Pinterest boards dedicated to home decor are finally going to come in handy.
You already miss your sibling, though. They're your favorite person to talk to, and truly the peanut butter to your jelly. When you were kids, you would dream big together, and couldn't wait to be adults. Now that you're there, you're realizing it's going to take these seven things to stay close despite the distance.