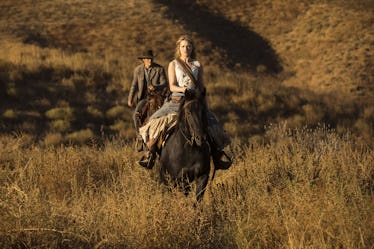 This 'Westworld' & 'Game Of Thrones' Crossover Theory Will Make Your Mind Explode
HBO
Westworld may not be set in Westeros, but in many ways, the show is the spiritual heir of Game of Thrones. The shows seem like cousins, with elaborate designs, mind-bending twists, and episodes which play like parables to problems of our own time. They even share production team members and the fanbase crossover is such that two of the biggest Game of Thrones fansites now cover Westworld. But what fans haven't seen yet is anything tying the two fantasy worlds together, until now. With the start of Season 2 comes a Westworld-Game Of Thrones crossover theory that's so hilariously outlandish, it just might work.
As noted above, the show shares members of the production team, the most notable being composer Ramin Djawadi, who scores both series, and has created memorable opening theme songs for both shows. They've also had the same director work on episodes. Michelle MacLaren directed Westworld Season 1's episode "The Well-Tempered Clavier" (the one with the Arnold reveal). She also did a two-year stint with Game of Thrones, directing Season 3's "The Bear and the Maiden Fair" and "Second Sons," as well as Season 4's "Oathkeeper" and "First of His Name."
But so far, there have been no casting crossovers to start the imaginations of the fanbases. Until a certain female strutted across the screen in the Westworld Season 2 premiere.
Don't you feel like you've seen this wolf somewhere before? When she turned up, my first question was if Westworld's production used the same animal trainers as Game of Thrones, because she sure looked like...
...Nymeria.
Apparently, others had the same thought.
Fans hoped this might be the start of something new and beautiful.
For the record, Nymeria is raised and trained in Canada, as was the Arctic wolf Quigly, who played Ghost until last year, when he passed away. Maisie Williams was flown to Canada to film these scenes because it was cheaper to fly one human to Canada than it was a pack of wolves to Ireland.
It would be simple enough, though, for the Canadian trainer to come to Westworld. Unlike Game of Thrones, which is filmed in Ireland, Iceland, Spain, and so forth, Westworld is shot here in the states, including Utah and California.
If it is the same wolf, and not just a coincidence, it's one of two animal crossovers this season. The other, as Winter Is Coming pointed out on Twitter, is William's horse.
Considering Westworld has now shifted out of the fall half of the TV season to the spring half, and into Game of Thrones' old airing slot of the end of April through the end of June, it's really hard not to see the cross-pollination growing.
The show wouldn't seriously do this. The chances of one of the six parks introduced this year being Westeros is about as likely as one being the world of Downton Abbey, where Elsie Hughes* can grow old and become Mrs. Hughes and marry Mr. Carson.
(*This is a real thing. Westworld's Elsie bears the last name of Hughes, and Mrs. Hughes from Downton Abbey's first name is Elsie.)
But there are chances for the two series to have at least a little fun before Game of Thrones hangs its dragons up for the last time in Season 8. For instance, HBO and Game of Thrones have both been big supporters of the Red Nose Day charity initiative NBC has been airing these last couple of years. (Red Nose Day is a big deal in the UK, and the BBC version of the telethon gets a lot of star power.) Such an event would be an ideal opportunity to do some sort of crossover.
With the chance Game of Thrones Season 8 and Westworld Season 3 could air back-to-back with each other in 2019, can we hope for some parody crossover to come? We'll have to wait and see. Until then, it looks like Nymeria's found a nice, warm home for the winter.