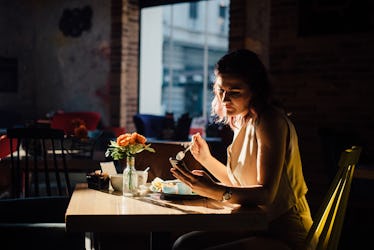 Experts Say These 6 Things Will Help You Feel Less Lonely If You're Living On Your Own
Feeling lonely is a bummer pure and simple, but it truly happens to everyone — especially as you get older, when you might find yourself living alone in your own apartment for the first time. Figuring out how to deal with loneliness when living alone is definitely a challenge, but it's not totally impossible. It all starts with recognizing that, even though you may feel super lonely a lot of the time, you really are never alone.
Every (wo)man is an island, as the saying goes, but even so, feeling connected to people is essential for your well-being. In Britain, for example, loneliness has actually been recognized as a pretty significant health concern, and the nation has even appointed its first ever minister of loneliness to address the issue, The New York Times reports. British Prime Minister Theresa May said in a statement,
For far too many people, loneliness is the sad reality of modern life.
I want to confront this challenge for our society and for all of us to take action to address the loneliness endured by the elderly, by carers, by those who have lost loved ones — people who have no one to talk to or share their thoughts and experiences with.
Now, just to be clear, being alone isn't the same thing as feeling lonely. Spending time with yourself can be great, but if you're feeling particularly isolated and blue while living alone, consider some of these expert-recommended suggestions to help you feel more comfortable, and keep those lonely vibes to a minimum.