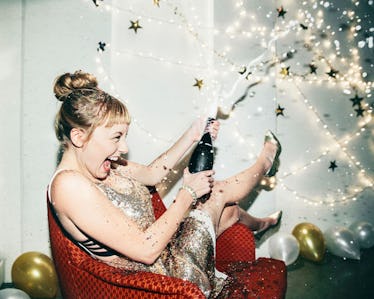 7 Ways To Celebrate Your Birthday Like A Royal, Because You Want To Have A Ball
Let's be honest: You're royalty, girlfriend. You keep up-to-date on the Duke and Duchess of Sussex, and have watched The Princess Diaries with Julie Andrews and Anne Hathaway a million times. The only thing you're really missing is the tiara. (Oh, and a castle that you can call your own!) You assume that one day, you'll be living your life and a note will slip under your door, telling you that you're next in line for the throne. Right now, though, you're just wondering one thing: how to celebrate your birthday like a royal, because it's almost time to have a ball.
In the past, you may have celebrated your birthday bowling with your best friends or going to your favorite local restaurant for dinner and drinks. The waiters and waitresses sang to you while you made and wish on your candles. You closed your eyes and might have asked the universe to bring you a significant other who would sweep you off your feet, just like Cinderella, or plane tickets to London where everything magical and royal happens.
Now, you're technically not supposed to say what your wish was. But, it did have something to do with channeling your inner princess. You just want to live like one of the royals, and celebrating your birthday one of these seven ways will be the perfect way to start.