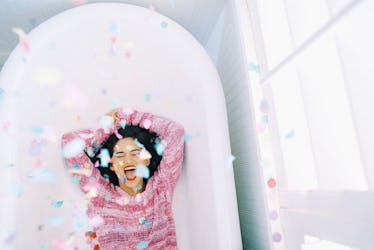 5 Things To Do Alone On Your 25th Birthday That Are Actually So Much Fun
For some people, the initial thought of spending a birthday alone sounds, well, terrible. You may be one of those people, and thinking to yourself, "Why on Earth would I want to let this day go by without a huge party or night out on the town?" It's understandable that you'd want to surround yourself with the people you love to ring in being a quarter-of-a-century years old. But, hear me out: There are some many things to do alone on your 25th birthday that are actually so much fun. Glitter and confetti? Required.
Think about one of your favorite sitcom characters, Jessica Day from New Girl. Up until she started dating Nick (spoiler alert), she loved celebrating her birthday by herself. She'd go to the movies and order two large buckets of popcorn, putting extra butter and salt on both. It was a recipe for success every single time, even without any cupcakes or presents from a wish list.
So, it's about time you give this kind of celebration a shot. Treat yourself to a day of pampering, a new movie you've been wanting to see, or an activity that you'd truly enjoy doing alone. Of course, your 25th birthday is still your day, and you can spend it however you please. But, I'd highly recommend one of these five things that are actually perfect for celebrating solo.