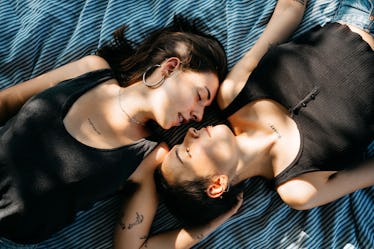 Here's How To Make Another At-Home Quarantine Date Night Feel Exciting Again
SERGIO MARCOS_Stocksy
The rush you get on the Uber ride to the restaurant, or when you first see your SO walk in. The excitement of checking out that new tiki bar together. The thrill of not knowing what your boo will be wearing, or where your night will lead after dinner. Of course, what I'm describing may sound like a distant memory now — date nights during the pandemic look far different from those you enjoyed in the Before Times. But if you're wondering how to build anticipation before a date night in with your partner, I have good news. It's totally possible to make your time together still feel special, even if you are just having a home-cooked meal for the 50th (or 250th) time.
"Couples don't have to leave their homes to keep their connection strong with their partner, it just takes a little more creativity and thought," Maria Sullivan, dating expert and vice president of Dating.com, tells Elite Daily.
Amping up the anticipation depends on two key elements: surprise and novelty. And whether you know it or not, there are lots of ways to cover those bases even when you're just hanging at home. It may require a little creativity on your part, but I promise, the effort will be well worth it — by building anticipation, you're re-igniting the spark in your relationship and triggering that flood of good feels you used to get during the earliest stage of dating. Here are some ideas that will have you counting down the minutes until your cozy date night in.