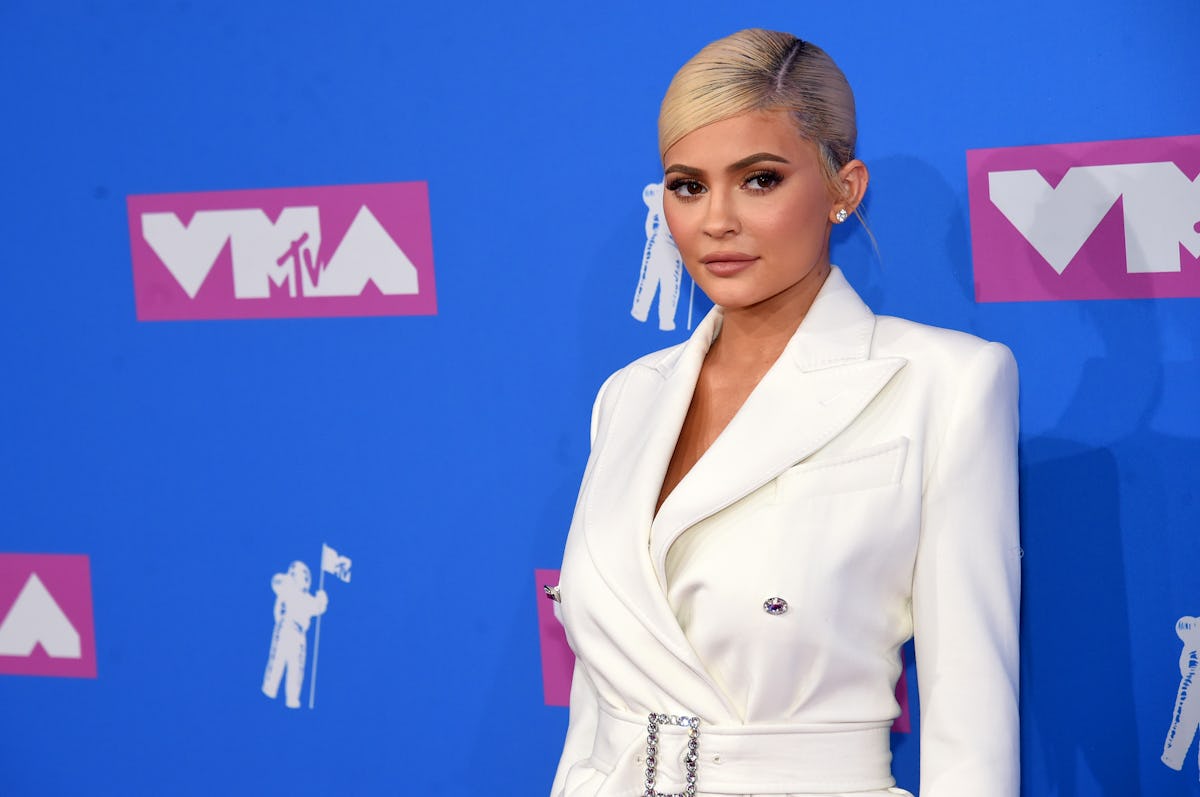 Here's What We Know About How Much Kylie Cosmetics' Halloween Collection Will Cost
Jamie McCarthy/Getty Images Entertainment/Getty Images
If you haven't already heard, Kylie Cosmetics' has a brand new collection set to drop on Oct. 12 — that's exactly a week away and less than three weeks before Halloween itself. So that means, if you're planning on incorporating any of this killer new collection into your Halloween costume (and your Halloween costume budget), then you have the next seven days to plan which products you are going to add to your digital shopping cart. But money doesn't grow on trees, so it might be helpful to know how much Kylie Cosmetics' Halloween Collection costs.
As much as I want to hoard any and every Halloween makeup product out there, I think a lot of people can relate to the fact that my bank account can't handle that. Unfortunately, Kylie Cosmetics has yet to release the exact pricing for each product, as well as the bundle. However, because the collection consists of beauty products Kylie has released before, we can estimate the price for each product, give or take a few bucks.
Read on for a breakdown of each product and where the price may hover around, so that you can prepare your bank account and Halloween costume budget.
Mummy Eyeshadow Palette
Estimated Price: $38 — $42
I'll be the first to admit that, while I am obsessed with Kylie's Lip Kits, there hasn't really been a Kylie Cosmetics eyeshadow palette to catch my attention —that is, until I laid my eyes on the "Mummy Eyeshadow Palette." This nine-pan palette contains a wide variety of shades that are incredibly festive, yet still versatile and can be used to spice up any Halloween costume. To figure out how much the "Mummy Eyeshadow Palette" would set you (and me) back, I looked at the other nine-pan eyeshadow palettes that Kylie Cosmetics has to offer. Each nine-pan costs between $38 and $42, so my guess is that the Halloween eyeshadow palette will most likely fall in that ballpark.
Halloween Glitter Eyes
Estimated Price: $20
The Halloween Collection features two new glitter liquid eyeshadows in a metallic copper called "Witch and Famous" and gold called "Hello Ghordeous." All of the other single "Glitter Eyes" retail on the brand's site for $20 each, so it's safe to say these two new additions will cost around the same.
Halloween Highlighter
Estimated Price: $22
While the Halloween Highlighter single may seem a little scary at first, it looked super dreamy on Kylie as she swatched it. Considering all of the other single classic Kylighters (like "Salted Caramel") in the Kylie Cosmetics collection cost $22, my spidey senses are telling me that the this highlighter will be the same.
Vampire Lip Kit
Estimated Price: $29 — $30
The Vampire Lip Kit contains a deep matte red liquid lipstick dubbed "Bite Me," and a matching lip liner. When browsing the brand's site, classic Kylie Cosmetics Matte Lip Kits (like "Dolce K Matte Lip Kit") cost $29, but the"Baddie Lip Kit" — a part of the Kylie 21st Birthday Collection — costs $30.
Spooky Glitter Gloss
Estimated Price: $16
If your lips need a glitter topper this Halloween, or if your costume is a face full of glitter, you're in luck. Kylie dropped some Spooky Glitter Gloss in the orange-y glitter shade "Handsome Devil." With the drop of the previous Kylie x Jordyn collection came two new "Glitter Glosses" that each retail for $16, while the other glosses on the site retail for $15.
3D Lipsticks
Estimated Price: $17
As far as the four 3D Lipsticks included in the Halloween Collection go, all other matte lipstick bullets on KylieCosmetics.com retail for $17 — including special collection lipsticks — so these four new creepy additions most likely will cost the same.