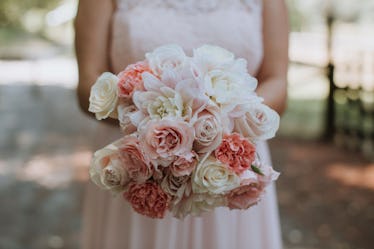 6 Women Reveal How Much It Cost To Be A Maid Of Honor, & It's Pricey
Everyone knows that weddings can often be expensive for the couple and their families, but what about the close friends who get tapped for roles in the wedding party? The cost of being in a wedding that isn't even your own can easily add up and start to feel astronomical. For the maid of honor, that number can blow up real quick. Asking yourself "How much does it cost to be a maid of honor?" before saying yes to the bride might be a good idea if you're trying to ball on a budget. Because overall, the answer seems to be that the experience is definitely not cheap.
It's a big honor to be asked to be a MOH, but that doesn't mean it's an easy job. There are definitely some brides out there who make the title stress-free and don't ask much of their MOH, but there are others who demand a little more. On top of that, there are many costs associated, like the dress, shoes, hair, makeup, and not to mention planning the bachelorette party and bridal shower.
It all adds up, and these real-life stories about how much it costs to be a MOH, from former MOHs themselves, show that there's a lot more to the title than holding the bride's dress up when she has to pee.