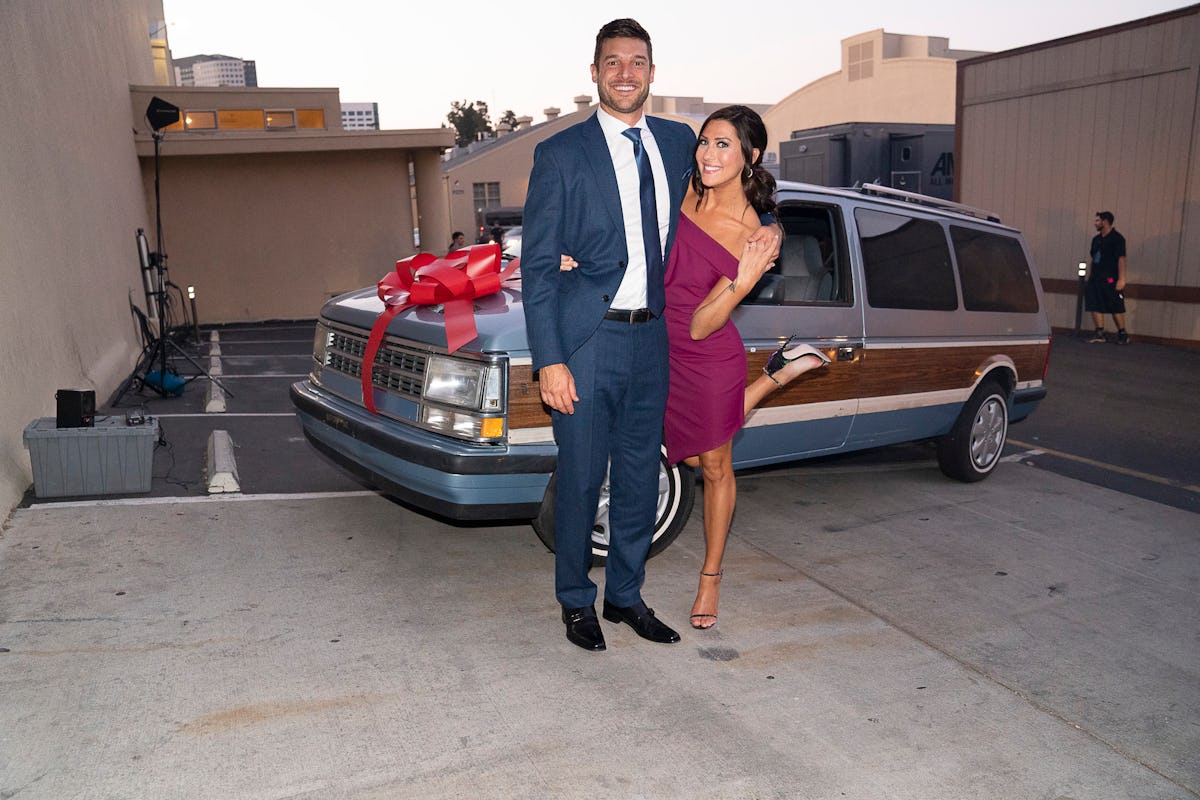 'Bachelorette' Becca's Engagement Ring Has Over 80 Diamonds, So Don't Mind My Drooling
ABC
As somewhat of a flaneur when it comes to reality television, I take delight not in watching the actual shows, but in seeing how others react. And boy oh boy, did the people of Twitter have thoughts on the season finale of The Bachelorette. Of course, the majority of the tweets were either praising or critiquing Becca's decision to get engaged to finalist Garrett, but the major supplementary topic was the ring with which Garrett proposed: The cost of Becca's engagement ring, the decision to go with gold over platinum metal, and overall thoughts on Garrett's approach to the ring-designing process filled the majority of my Twitter feed, and Bachelor Nation was not holding back.
Becca's decision to choose Garrett over Blake was a shock to many fans who switched over to Team Blake after news reports slammed Garrett for "liking" a slew of offensive Instagram posts, for which he has since apologized. However, the couple excitedly declared their love and looked over the moon to finally be engaged, so I'm trying to be happy for them, especially after Arie broke off his engagement to Becca on Season 22 of The Bachelor. The girl just wants to be happy, America!
Determined to be successful in her quest for love this time around, Becca happily accepted when Garrett proposed with a unique gold Neil Lane Jewelry ring:
According to celebrity jeweler Neil Lane and the brand's social media, the uniqueness of the ring's design was totally intentional, inspired both by Garrett's thoughts on what Becca might like and Lane's desire to help give Becca her long-awaited special moment. Each finalist works with Lane and the brand to design the ring's setting and stones, so as to give a more personal touch to what is a very public, broadcasted-to-millions proposal.
Typically, the rings on The Bachelor feature a platinum band and one large center stone. However, Garrett's pick is an 18-carat gold ring with three large stones:
"I wanted it to be elegant, quite glamorous and I wanted to use gold," Lane told PEOPLE in an interview about the ring's design. "It's a whole different concept — it has three oval stones, which helps celebrate both of them as a couple and the third diamond represents their future together."
In addition to the three large stones, there are 84 full-cut smaller diamonds encircling the gold band.
"I wanted to make a ring that was totally different than anything I had done for the show before," Lane told PEOPLE about why the design was so unique. "I wanted to create something very special for Becca, especially considering everything that happened with Arie." Arie's ring for Becca was notable, but it hardly compares to her new ring's 18-karat magic.
Personally, I'd describe it as a whole lot of bling, but Lane says the design is meant to be elegant, effortless, and "not overly complicated or architectural." While we don't know the exact price of the ring, as neither the show nor the jeweler has revealed it, based off of the fact that it has 87 diamonds in 18-karat gold, I think it's safe to say it costs quite a pretty penny. After all, her sparkling finale dress cost $18,000, so I can't even imagine how much the show was willing to spend on the perfect ring to match.
Lane also told PEOPLE that Garrett was very into the design process: "He really studied them thoroughly and had a grin on his face, from ear to ear, the whole time."
Despite Garrett's supposed devotion to getting the perfect design, Twitter users and The Bachelorette fans were not exactly impressed with the end product:
However, there were some fans who saw the unique beauty behind Lane's special design:
Whether or not fans were thrilled over the winner and his wildcard ring, Becca was over the moon with her decision, which is all that really matters, TBH. I'm just glad she's stunning enough to pull off a gold ring with a silver dress — the girl came ready to rock a mixed metal fantasy, and for that, I salute her.