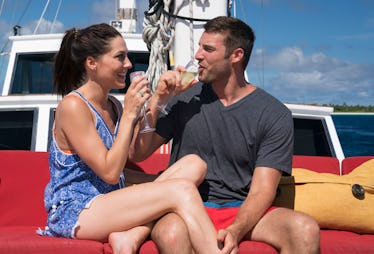 Garrett Apologized For His Instagram Likes On 'After The Final Rose' & Becca Supports Him
ABC
The elephant in the room at The Bachelorette's After the Final Rose was whether Chris Harrison would address winner Garrett Yrigoyen's controversial social media likes. After seemingly dancing around it, Chris finally steered the conversation to the issue at hand, and the newly engaged couple addressed it as a joint force. Garrett apologized for his Instagram likes on After the Final Rose and Becca totally supports him.
Soon into the season's run, fans discovered that Garrett had a history of liking Instagram posts that mocked trans people, feminists, and the Parkland shooting victims, among others. He issued an apology for the controversy, saying:
I am sorry to those who I offended, and I also take full responsibility for my 'likes' on Instagram that were hurtful and offensive...I am not perfect, and I will never be anywhere close, but now I will always be more informed and aware of what I am and supporting, not just on Instagram, but in life.
Because he released such an in-depth apology, Bachelor Nation had suspected for essentially the entire season that Garrett was a serious contender for Becca's heart. When the Season 14 finale aired, these widespread suspicions proved right, and the After the Final Rose's determination to seemingly make the audience fall in love with Garrett before discussing any negativity didn't exactly feel like the right move.
After a slightly uncomfortable montage of Becca and Garrett's "happy couple weekends" (because the last time a camera crashed one of those went so well for Becca), Chris managed to leave a gap in the group conversation for Garrett to own up to his mistakes. Referencing his past apology, the 29-year-old medical sales rep admitted that he was trying to become a better person. Because the posts he liked went totally against Becca's own beliefs, Garrett is now determined to better himself. When the scandal arose, he and Becca "attacked" the issue as a couple.
Becca, clearly using her top-notch skills as a publicist, also piped in, pointing out that because they didn't have access to social media and phones during filming, she grew to love Garrett simply because of the person he naturally was. Discovering the likes led to intense discussion between the two, confirming that they were going to handle any future troubles together. Becca also didn't shy away from how difficult handling the scandal without revealing her engagement was, so props to her for keeping a strong poker face for the last few months.
While many viewers on Twitter don't seem to doubt the connection Becca and Garrett share, Garrett's social media snafu understandably still upsets members of Bachelor Nation. Reactions have been mixed to the way he handled things on a live platform, and ABC rewarding the couple with a trip to Thailand and a family-friendly vehicle probably didn't help those already angry about Garrett's likes.
Just as some of the tweets mention, it is hopeful to believe that a person can learn from his mistakes and improve himself, but the real proof of change is someone's actions. With the support of Becca at his side, we can only hope for the best when it comes to Garrett's growth and his relationship with Becca. Good luck to the new couple!