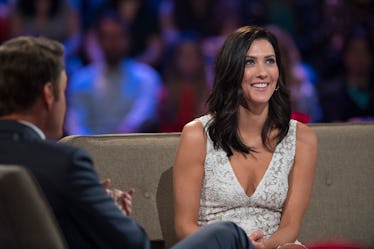 'Bachelorette' Becca Reveals What She Knows About Her Engagement Ring From Arie
ABC/Paul Hebert
Bachelorette Becca Kufrin has a brand new sparkler for her ring finger, but you won't see it anytime soon since she's keeping it under wraps until the winner of her season is revealed. But what did Arie do with Becca's engagement ring from their short-lived relationship? Becca got engaged to Season 22's Bachelor last year and he broke her heart for all the world to see, although unfortunately she didn't walk away with the Neil Lane diamond that was supposed to symbolize their everlasting love. Is it property of ABC? Not even Becca knows its true wherabouts.
Becca dished to Bachelor superfan and late-night host Jimmy Kimmel on Monday, June 4, explaining that she returned the ring to Arie following their very public breakup.
"No, good riddance. No. Well, I gave it back to him when he ended things," Becca told Jimmy when he asked if she kept the rock.
But not even Becca knows what Arie did with it. Jimmy pressed on if her former fiance still has the piece of jewelry, to which she responded, "I don't know, that's a good question. I don't know if he has it."
Is someone unknowingly (or knowingly) walking around wearing a significant piece of TV history on their finger right now?
And, no — Arie's runner-up and now-wife-to-be Lauren did not get a recycled ring when he proposed to her on "After the Final Rose." Lauren is currently wearing a different rock altogether.
Becca's ring was a 3-carat oval diamond. "It's very feminine with a gentle look and soft edges," jeweler Neil Lane described to People of Becca's in March. "It has my signature detail under the gallery and lots of little diamonds that make it sparkle. It has a vintage look but with soft and feminine touches."
Lauren's is a 3.65 carat cushion-cut center stone which is surrounded by a halo of diamonds.
"Lauren's ring was one of the most intricate I have ever made for The Bachelor," Lane revealed to The Knot. "It required a great deal of time and attention. The romantic, baguette-cut diamond combined with an elegant cushion is the perfect mix of vintage glamour and contemporary style, much like Lauren herself."
Arie and Lauren are getting closer to their big day — the pair will say "I do" in Hawaii on January 12, 2019. Becca even said she would be open to attending the nuptials should she get an invite. "If there's an open bar and I'm invited, I'll go!" she told The View on May 30. Completely understandable. Mai tais are delicious.
Becca has also admitted that her ex Arie will be making an appearance on her season despite their rocky past. She teased to ET:
We do have a conversation and you'll just have to see that unfold. At that point it wasn't emotional, it was just two adults sitting down, wishing each other the best and talking through our experiences. That was our last conversation we've had. I knew that would probably be the last time we had a conversation, and I wish him and Lauren the best.
As to if Arie's fiance will get screen time in Bachelorette Season 14, Becca told Kimmel that Lauren "waited out in the golf cart." Bachelor Nation will have to wait to see if that comment was in jest or not.
Becca has said that she and Lauren were friendly during filming since all of the ladies got along well, but the two of them weren't the closest of contestants. Being buddies with your boyfriend's girlfriends doesn't sound like the most pleasant social situation, but this is The Bachelor we're talking about. Friendships are formed for life no matter how odd the circumstances.
Now that Becca's journey is underway on TV and she's already admitted she's engaged, Bachelor Nation is obviously curious to see what her ring looks like this time around. After watching her aggressively destroy any physical reminders of Arie on Monday's episode, I'm guessing she made sure it didn't resemble her last one.