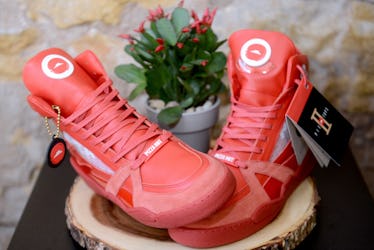 Pizza Hut's Pie Tops Sneakers Will Order You Pizza & The Game Is Forever Changed
Sasha Haagensen/Getty Images Entertainment/Getty Images
Never in my wildest dreams did I think I could order my favorite meal with the touch of my sneakers. It's a new dawn, it's a new day, it's a new life, and I'm craving pizza. I need to know how much Pizza Hut Pie Tops sneakers cost, STAT. A shoe that can place my order directly to Pizza Hut sounds too good to be true, but the brand has accomplished the unbelievable.
I'm a bit of a pizza connoisseur if I do say so myself. What better combo than bread, flavorful sauce, and cheese? Don't even get me started on the toppings. The options are limitless, so when news broke that Pizza Hut was dropping a sneaker that can hail delicious pies to directly to you, my whole day was consumed by the thought of pepperoni and an extra side of marinara sauce.
If you haven't heard of the Pizza Hut Pie Tops II ($150, HBX.com), you're in for a slice of heaven. In honor of March Madness, Pizza Hut launched the second model of a limited-edition pair of sneakers that has a pizza ordering button. Yes, you're reading me right, a pizza ordering button. The first pair of Pie Top sneakers launched in March 2017, when Pizza Hut became the official pizza of the college basketball tournament. Combining two mega forces like March Madness and pizza is like a millennial dream.
On the pair's second model, you'll find a pizza ordering button on the right shoe, where the tongue is. All you have to do is press the button, and since the shoe connects to the Pizza Hut app, two medium pizzas will show up to your door. If you're in the middle of a game, all you have to do is press the left shoe, and it will pause your TV. Pizza Hut can you create this type of technology to pause life? Sometimes your customers just need a moment to ponder what type of pizza they want.
This technology is so meta, but there's a catch. You have to have a TV provider like DirecTV, Verizon FiOS, and Xfinity. If you do have one of these providers, you don't have to worry about setting up the shoe. All you have to do is point the shoe at your TV and hit pause. A shoe that can order pizza and pause my TV sounds like a dream.
According to Zipporah Allen, Pizza Hut's chief marketing officer, the original Pie Tops were such a hit, they increased sales, so they decided to add new colorways, sizes, and the TV pausing component.
During the launch, we saw digital sales grow, increased traffic in Pizza Hut searches, and a lift in brand interest," said Allen of the original Pie Tops' impact last year."
The shoes come in two colorway options: a "wheat" version, which looks like the color of pizza crust, and a bright "marinara" sauce red. I don't think I would ever be able to wear these outside of the house, and since the company only released 50 limited edition pairs, I think of them more like a Hypebeast fantasy. For $150, Pizza Hut could've given buyers a couple of free pies, instead of charging $6 for two medium pizzas. I was still interested to see how the shoes functioned, so I checked out what Theresa Massony, senior dating editor of Elite Daily, had to say.
Pie Tops require Bluetooth to operate, so turn on your phone's Bluetooth settings to pair it with your shoes (a sentence I never thought I would type in my entire life). Once Bluetooth is activated on your phone, hold down the button on the tongue of your right Pie Top sneaker until you're prompted with a message on your phone to pair the two. As Pizza Hut says in the screenshot below, it may take a sec. Patience, grasshopper.
According to Massony, you have the option of cheese, pepperoni, veggie lover's pizza and a supreme pizza. 20 minutes later a glorious pie was for her devouring. Overall, I think the pizza brand is here for a good time and a long time. As the new 2018 sponsor of professional football, I'm excited to see what else they have in store. For now, though, Pizza Hut is balling like it's March Madness.