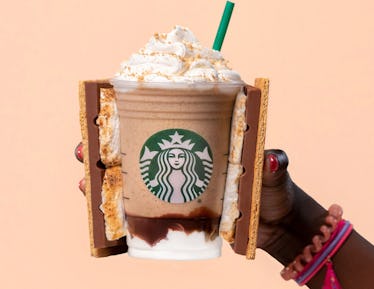 Here's What To Know About How Long The S'mores Frappuccino Will Stick Around
Courtesy of Starbucks
Starbucks is bringing back a sip that tastes exactly like summertime. The S'mores Frappuccino is back on menus, but like the season of flip-flops and bonfires, it won't be around forever. So, how long will Starbucks' S'mores Frappuccino be available? Well, my advice is to sip it as soon as you can.
Starbucks announced the return of the beloved S'mores Frappuccino on Thursday, May 21. It's back on menus at participating locations in the United States and Canada, but sadly it will only be around for a limited time while supplies last. I know that's not a hard end date, but it does mean you should probably enjoy this sip while you have the chance.
It's not gone yet, though — I mean, it literally just came back — so let's talk about the fun stuff, like what's in it. The drink starts with a marshmallow-infused whipped cream on the bottom of the cup that's topped with a milk chocolate sauce. The icy part of the sip features Starbucks coffee blended with ice and milk, and it's all topped with even more marshmallow whipped cream and graham cracker crumble. It's basically all the flavors of the s'more without first setting a marshmallow on fire. The price for a Grande S'mores Frappuccino ranges between $5.25 and $5.45 depending on location.
To celebrate the upcoming season, Starbucks also released a brand new drink: the Iced Guava Passionfruit Drink. It's a sip with tropical vibes that totally give your Prink Drink a run for its money. The new pink-hued drink in town is a caffeine-free and dairy-free sip made with a guava juice blend and flavors of passion fruit, pineapple and ginger. Then it's all shaken together with coconut milk and poured over ice for a refreshing summer sip.
Unlike the limited-time S'mores Frappuccino, the Iced Guava Passionfruit Drink is a permanent addition to the Starbucks menu, so you'll have plenty of options to do it for the 'Gram.
When you head to Starbucks during the coronavirus pandemic, you can order your sips a few ways: Mobile Order and pick-up, by going through the drive-thru, or by placing an order through Uber Eats. You keep up with the latest pick-up methods at your location by checking the Starbucks App, which is regularly updated to reflect the most current store information. Keep in mind the guidance from the Centers for Disease Control and Protection (CDC) when you pick up items or get food and drink delivered. Also make sure to wear a face covering and keep your distance if you go out, and regularly wash or sanitize your hands after handling your pick up or delivery.
If you think you're showing symptoms of coronavirus, which include fever, shortness of breath, and cough, call your doctor before going to get tested. If you're anxious about the virus's spread in your community, visit the CDC for up-to-date information and resources, or seek out mental health support. You can find all Elite Daily's coverage of coronavirus here.
This article was originally published on