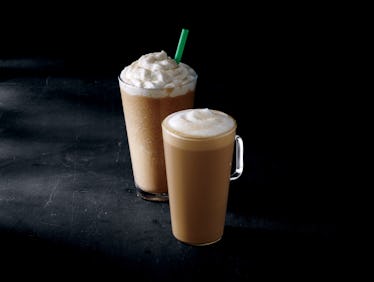 Starbucks' Smoked Butterscotch Latte Is Back, So Get It While You Can
Wizarding and non-wizarding folk can both agree that seasonal Starbucks beverages might actually be the best thing since invisibility cloaks. And while pumpkin spice lattes and peppermint mochas are, indeed, quite magical, certain seasonal drinks cater more towards the magic crowd, which even us Muggles can enjoy. Starbucks fans everywhere are beyond excited about the long-awaited return of the Smoked Butterscotch Lattes (which might actually just be butterbeer tapped straight from the Hog's Head Inn). But don't be a Malfoy, because they're only available for a limited time, so make sure to get both your wallets — and wands — ready for action.
Starbucks' Smoked Butterscotch Latte (SBL) has made its long-awaited return on Jan. 9, for the third year in a row, according to Elite Daily's lead Starbucks source. It's currently available throughout Starbucks stores in the U.S. and Canada, so there's really no need to head all the way over to Diagon Alley for one of those warm (and mad tasty) pints. Just grab your broom, as well as a little bit of cash and a few pals, and fly over to your neighborhood Starbies for a nice little cuppa. Trust us, it's definitely worth the flight.
Inspired by the Roastery, the SBL is a super delicious concoction of espresso, steamed milk, and smoked butterscotch sauce, sprinkled with a smoky butterscotch topping. And, depending on your mood, the SBL is perfect as a hot, or even as an iced latte. So bring some of that to your next potions class, because everyone will be hella impressed with your mad brewing skills. You might even get an automatic pass for the OWLs, with that magical (tall or grande) potion.
In a press release, Christal Canzler, the talented and mysterious wizard behind developing handcrafted espresso beverages for Starbucks, explains the magic behind the SBL, saying, "The smoky flavor balances the subtle sweetness of the butterscotch. It acts as a savory ingredient that enhances the coffee."
You're probably worried about defending against the Dark Arts with the SBL, so make sure to lighten things up, and try adding Starbucks' new Blonde Espresso. The sweetness in the Blonde combines with the SBL's smoky flavors, which ultimately makes for a really yummy and full-bodied bevvy.
If you're looking to create actual butterbeer with your own magical potion at Starbucks, look into how to order a Butterbeer Frappuccino. It's pretty simple, and it's another beyond-delicious way to get a taste of good ol' Hogwarts. So don't be afraid to take the wands on this one, and order your favorite to-go pint at your nearest Three Broomsticks. Er, I mean, Starbucks.
Maybe butterbeer really just has never been your thang, and you're more into the idea of emulating some classy Hogwarts style, in the form of athleisure. Rad clothing website, Black Milk Clothing, sells a wide variety of unique and fun Harry Potter-inspired leggings, tanks, dresses, and jerseys, and they're honestly bloody amazing. Any of the sweet styles is a beyond-perfect way to shout out your undying love for J.K. Rowling's masterpiece, even when you're going hard at the gym, or if you're just hangin' out and relaxing (and when you're probably indulging on another HP weekend).
Voldemort definitely never had a taste of Butterbeer, which really just goes to show that it's honestly what all of us need more of in this world. We truly couldn't be more excited to try Starbucks' magical SBL for the third year in a row, but since it's only available for a limited time, make sure to get your hands on one fast, before Draco sneakily drinks them all. But if you're too late, grab your potion's class thinking cap, and just head to Starbucks to create one yourself, preferably in your new HP athletic wear.
Check out the entire Gen Why series and other videos on Facebook and the Bustle app across Apple TV, Roku, and Amazon Fire TV.