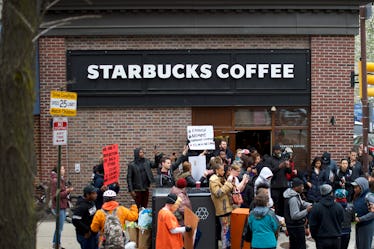 This Is How Long Starbucks Stores Are Spending On Anti-Bias Training
Mark Makela/Getty Images News/Getty Images
Amidst the long Memorial Day weekend, I'd almost forgotten about Starbucks' plans to close its doors on Tuesday, May 29. In case you need a refresher, Starbucks announced last month that its 8,000 locations would be shuttering their doors for an afternoon of anti-bias training in response to an April 12 incident at a Philadelphia Starbucks in which two black men were arrested for "trespassing," which was followed by a media firestorm and protests. For caffeine devotees wondering how long are Starbucks stores closed for anti-bias training, they're taking their time to address discrimination with a custom workshop, and a few changes will potentially be in the works when locations open like usual on Wednesday.
According to USA Today, Starbucks locations around the country will be closed on May 29 for three hours starting at 1 p.m. or 2 p.m. While the coffee giant reportedly tried to plan the training around the end of the lunch rush, customers like myself who enjoy a mid-afternoon coffee during the work day will have to look elsewhere for a second cup of Joe.
Starbucks' initial announcement of anti-bias training came just days after the April 12 incident, which sparked national outrage. On April 12, two black men were arrested at a Starbucks in Philadelphia simply for asking to use the bathroom without buying anything first. The customers in question, Rashon Nelson and Donte Robinson, were waiting for a mutual acquaintance when Nelson asked the store manager if he could use the restroom. After he was told that the restrooms were only available for paying customers, he sat down to wait for the third person to arrive. That is, until the manager called 911 and police came to arrest the two men for loitering. A customer captured a video of the men being cuffed and shared it to Twitter, where it quickly went viral, prompting discussions about racial profiling.
Shortly after the event, Starbucks' CEO, Kevin Johnson announced in a statement that 180,000 employees would be undertaking anti-bias training. The custom workshop is reportedly "designed to address implicit bias, promote conscious inclusion, prevent discrimination, and ensure everyone inside a Starbucks store feels safe and welcome."
While the curriculum materials are currently unavailable, the company did share a preview of the afternoon's activities in a press release on May 23. Starbucks wrote, "Each store will receive a tool kit which will allow for partners to learn together in small self-guided groups. This first training will focus on understanding racial bias and the history of public accommodations in the United States, with future trainings addressing all aspects of bias and experiences."
According to Rossann Williams, Starbucks' executive vice president of retail, the anti-bias materials will become available to the public after the training. "May 29 isn't a solution, it's a first step," she said in the statement. "By educating ourselves on understanding bias and how it affects our lives and the lives of the people we encounter and serve, we renew our commitment to making the third place welcoming and safe for everyone."
Starbucks isn't closing its doors for the full day for the workshop, but they're still estimated to forfeit more than $12 million in revenue from lost sales, USA Today reports via Sharon Zackfia, a partner at investment banking firm William Blair. However, while Starbucks' corporate office and 8,000 locations will be losing business in the three-hour window, Starbucks shared that 7,000 licensed stores operated by hotels, grocery stores, and the like, would be open all day on May 29. So it's technically still possible to get a drink topped with the new cold brew-flavored whipped cream if you absolutely can't go a day without it.
That being said, Starbucks will be open bright and early on Wednesday morning like usual. While the May 29 training might last just a few hours, expect some new policies to come into play. Starbucks revealed that they are investing in "new technology being deployed to stores," and that as of May 19, they've enacted a new policy that allows customers to use Starbucks' bathroom facilities without buying a drink.