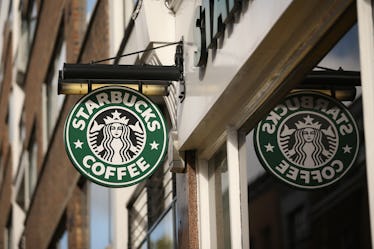 These Starbucks Drinks Come With Sweet Cold Brew Whipped Cream On Top
Oli Scarff/Getty Images News/Getty Images
For some people the summer months are all about lounging poolside sipping coconut-flavored whatevers. But not for me. When it gets warm, I am all about ordering everything iced, blended, or over-ice drink Starbucks has to offer. And just in time, the coffee shop is combining my two favorite things: their patented Cold Brew Blend and whipped cream. So which Starbucks drinks have sweet Cold Brew Whipped Cream? Go order them ASAP (and one for me too).
Starbucks Cold Brew Whipped Cream rolls out on Tuesday, May 1 to all stores. It will only come (automatically) with their two new Frappuccinos. That's right, I said two new frapps have arrived: the Ultra Caramel Frappuccino and the Triple Mocha Frappuccino, and they sound so amazing that I am tempted to leave you hanging here and go get myself two Ventis. This is why I need an assistant.
Want to understand why I am so eager to get my hands on these new frapps? Just take a look at this picture of Starbucks' new Ultra Caramel Frappuccino. Tell me your mouth isn't watering?
If you are a fan of all the caramel goodies that Starbucks has to offer, then you're gonna love this icy beverage. Imagine a trifle cake, but with your favorite Starbucks drink? First some sweet caramel sauce goes in, then it's topped with that new Cold Brew Whipped Cream, then add in some Caramel Coffee Frappuccino, then some more caramel sauce and some more Cold Brew Whipped Cream.
Already drooling? Wait till you see this Triple Mocha Frappuccino.
Maybe mocha is more of your thing? Have no fear, because you can get all that layered goodness: mocha edition. The Triple Mocha Frappuccino starts off with some dark mocha sauce, topped with Cold Brew Whipped Cream, then Starbucks' famous Mocha Frappuccino. Add in some more mocha sauce, top it with Cold Brew Whipped Cream and it's the mocha delight dreams are made of.
And guess what? These drinks are on the permanent menu, but don't wait to get them.
I mentioned some more good news, right? Well even if frapps aren't your thing (for some unimaginable reason), you can get Starbucks' new Cold Brew Whipped Cream on any drink of your choosing. Add some coffee-flavored whipped cream to your morning Red Eye (that's my plan), or maybe jazz up your iced latte with a little Cold Brew cream? The possibilities are literally endless. So try them all RN.
Starbucks is known for coming out with creative drinks that folks can't wait to try, but most recently they've been focused on what goes on the drink. Back on April 17, Starbucks rolled out their cold foam drinks. We're all pretty used to our hot lattes being topped with foam, but now we can enjoy some cold foamy goodness in the summer.
Right now you can choose from the Cold Foam Cascara Cold Brew, the Cold Foam Cascara Nitro Cold Brew (if they have a Nitro tap at your local Starbucks), and the Cold Foam Starbucks Blonde Iced Cappuccino. Ice ice baby! Run and get them right now, what are you waiting for?
For those of you who haven't even tried any Starbucks Cold Brew yet, well then this is the perfect reason to jump on the bandwagon. Making cold brew coffee is the process of actually steeping the coffee with cool water, unlike iced coffee which is just hot coffee poured over ice. The coffee brews for a long time and so you get a much richer flavor. If you want to be even more adventurous, try the Starbucks Nitro Cold Brew (again, if it's available). It comes straight out of a tap (yes like beer), and so it has a bit of a foamy texture (yes like beer). Both the Cold Brew and the Nitro Cold Brew come from a single "keg" of cold brew coffee, but the Nitro tap infuses the coffee with tiny nitrogen bubbles to give it that "beer-like" texture as it comes out of the tap and into your cup, according to Today.
What's better than a summer beverage that'll keep you cool and caffeinated? I mean, it's a total win win if you ask me. So, I don't know why you are still here reading this when you should be at Starbucks ordering all the Cold Brew Whipped Cream drinks your arms can carry. Go forth and prosper, with arms full of frapps.