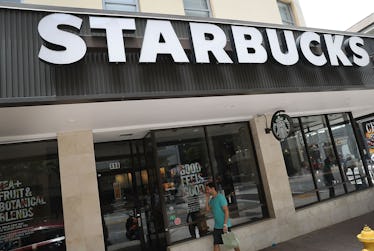 Starbucks Is Closing For Anti-Bias Training, But Some Stores Will Stay Open
Joe Raedle/Getty Images News/Getty Images
Starbucks is shutting the doors on nearly all of its locations on Tuesday, May 29 to implement an anti-bias training program for its employees. The move is in response to an incident that occurred at one of its Philadelphia stores in April, where two black men were arrested. In terms of which Starbucks stores are closing for anti-bias training on Tuesday, all corporate locations will close for a few hours starting in the mid-afternoon for employee training, but a handful of Starbucks locations will remain open for business.
On April 12, a Starbucks store manager called the police on two black men, who were seated inside of the coffee shop waiting for a friend. The two men were initially arrested for trespassing, but the charges were later dropped, and Starbucks issued an apology. Since the incident, Starbucks announced that anyone is welcome to sit inside of the store and use the bathroom without purchasing anything.
The Seattle-based coffee retailer is attempting to make sure a similar incident, which prompted a wave of protests, doesn't happen again by closing up shop so that employees can participate in an anti-racial-bias training program. Over 175,000 Starbucks employees who work at more than 8,000 locations nationwide will participate in the racial-bias training exercise to "begin a new chapter," Starbucks CEO Howard Shultz wrote in an open letter to customers. But not all locations will participate, according to Starbucks.
In addition to the 8,000 plus corporate standalone locations, there are nearly 7,000 licensed Starbucks stores in the U.S., and these stores will largely remain open on Tuesday afternoon, according to a Starbucks press release. These shops are typically smaller versions of the traditional Starbucks store and can be found at places such as major grocery stores, hotel lobbies, university campuses, and airports. While these stores will remain open during the coffee giant's afternoon racial-bias training session, Starbucks is providing training materials to each licensed store, as well as its business partners, so that employees can review the curriculum when possible.
What does this mean for you? Well, it will depend on where you live. It seems that many Starbucks stores will be closing in the mid-afternoon of Tuesday, May 29 to allow employees to partake in the company-wide racial-bias training program. There is no official closing time across the board, but most locations will close up shop between 2 p.m. and 3 p.m., local time, according to CNN. So, if you are unsure what time your local Starbucks location is shutting their doors, find the closest location and give them a call. All corporate Starbucks locations will remain closed for the rest of the day.
"The incident has prompted us to reflect more deeply on all forms of bias, the role of our stores in communities and our responsibility to ensure that nothing like this happens again at Starbucks," Schultz's letter said. "The reflection has led to a long–term commitment to reform systemwide policies, while elevating inclusion and equity in all we do."
Although not all of the licensed Starbucks locations are closing, certain retailers have separate training programs for employees. Stores like Target are among the roughly 7,000 stores that will still serve up beverages and food to patrons on May 29, but the retailer assures customers that they have their own anti-bias training plan. In response to Starbucks' racial-bias training session, Target issued a statement that all employees, which includes all baristas at Target locations, "will take part in Target's existing company-wide bias training programs."
The bullseye retailer also noted that the majority of their employees have previously undergone this training as "part of Target's commitment to making sure our team can learn and build skills that will benefit them, and in turn, help us create a welcoming and inclusive experience for our shoppers."
Starbucks plans to reopen all corporate locations and assume normal business hours on Wednesday, May 30, if not sooner.