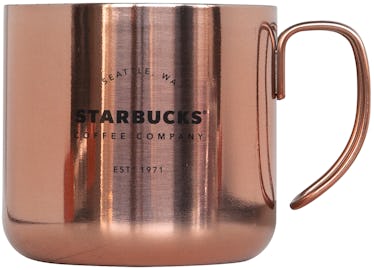 Starbucks' Gorgeous Rose Gold Cups Won't Be Here Forever, So Stock Up ASAP
As the mornings get cooler and cooler, that a.m. cup of coffee becomes increasingly more necessary. Perhaps you've been jazzing up your morning java by making it a Peppermint Mocha to get into the holiday spirit. Well, why not take it one step further and spruce up the cup that holds your caffeine boost? After seeing the new rose gold merchandise at Starbucks, you won't want to stick with your plain old mug. You'll also want to act fast once you find out how long Starbucks' rose gold cups are available.
I'm not sure when rose gold really hit the scene, but I know that it made a permanent mark, and it is (thankfully!) not going anywhere soon. In fact, your coffee cabinet is about to get a rose gold upgrade. The new pink-hued merchandise at Starbucks is seriously cute AF, so I have a hunch that you'll be wanting it all.
As with all good things, the rose gold cups are only available while supplies last, according to Starbucks. So, your best bet is to get to your local licensed Starbucks store ASAP to load up on all the rose gold mugs, tumblers, and cold cups you can handle.
Seriously, look at all that sparkle.
Starbucks has released different variations of rose gold, so there is sure to be something that catches your eye.
Take, for instance, this classic stainless steel rose gold mug. It has the pink-hued metallic color that adds a little something special to your coffee moments, and it's a nice big mug that will keep you in coffee, cider, or hot chocolate all winter long.
If you want something with a little more of a "wow" factor, then you might like the Pink Glitter Plastic Cold Cup. I don't know about you, but once the cold weather hits, I find it very difficult to keep up with my eight-glasses-a-day rule when it comes to water consumption. With this pretty pink cup, you'll want to keep it by you at all times just to get a glimpse of the sparkle — so you might as well fill it up with some H2O while you're at it.
Are you a coffee-on-the-go type of person? Well, not a problem, you can still get your rose gold on. This gold scales stainless steel tumbler will hold your coffee or tea (while also keeping it warm) in the most fashionable way possible as you trek to work or school. Plus, your love of Starbucks will definitely shine through as you show of the scales design, which is likely a nod to the iconic Starbucks Siren.
Starbucks isn't new to providing coffee lovers everywhere with stylish merchandise. In fact, you can find the entire Starbucks holiday merchandise line in stores right now. If you did all of your holiday shopping online last year, you'll notice that you can't snag the perfect festive mug at the Starbucks online store anymore. The Starbucks online store closed for good on Oct. 1, but as you can see, shuttering the online doors wasn't an end to merchandise altogether.
You'll just have to make your way to a Starbucks store in order to pick up the latest rose gold or holiday merchandise for all of the stockings that need stuffing. You can find rose gold merch in licensed Starbucks stores including those inside grocery stores, retailers, hotels, and airports. That doesn't sound like a such bad deal, right? Heck, it's a great excuse to try out some of the new holiday flavors that you haven't yet tasted. It's important to remember to treat yourself (at least once in a while) while you're out shopping for everyone else on your list.
Check out the entire Gen Why series and other videos on Facebook and the Bustle app across Apple TV, Roku, and Amazon Fire TV.