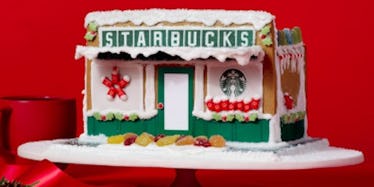 Starbucks Revealed Its Holiday Collection And It's So Cute You'll Forget Halloween
Starbucks
If you're the kind of person who was dreaming about flannel and fallen leaves in July, then you're probably starting to think about how you'll get everyone checked off your gift list this holiday season. Well, Starbucks is here for you and your early-bird holiday needs. There's only one question left: When will Starbucks' Holiday Collection be in stores?
According to an email sent to Elite Daily from Starbucks, the new holiday collection will debut in-store on Nov. 9. If that seems a little too far away, never fear, because Starbucks has released a gift guide of the holiday products that will be available for purchase in November. After browsing the new designs for 2017, you'll have your shopping list completed before you even walk into the store.
Holiday shopping is the best excuse to buy a shiny new coffee mug. Believe me, once you get a look at the trendy, cool, and beautiful designs from which to choose, you'll want to buy (and keep!) them all. It couldn't be better timing either, because as soon as the temperatures take a permanent dip down the thermometer, you'll be stocked up with drinkware for all of your coffee (or hot chocolate/hot toddy) needs.
So Many Cute Mugs
A coffee mug is the perfect gift for almost anyone. Even if the person you're buying it for doesn't drink coffee (gasp!), they can use it for tea, hot chocolate, or apple cider. No matter what their drink of choice is, they're sure to enjoy it with smile while drinking from one of these mugs.
If this gold heart mug doesn't scream cozy, then I'm not sure what does.
Starbucks is here to prove that not every holiday gift needs to be wrapped in red. A playful mug will make the perfect gift for your best cheeky pal.
If there was ever a time when the message of love and kindness needed to be spread, it's now. Your most thoughtful bestie will totally appreciate sipping her morning java from this mug.
On-The-Go Gifts
Tumblers that keep your drink warm while you're driving or taking public transportation to work have become a necessity for those leading a fast-paced life. Luckily, Starbucks has many festive (and stylish) options.
This design's modern take on the traditional colors of the holiday is perfect for your friend who is always a step ahead of the latest trends.
This vibrant red tumbler is perfect for your aunt who is a lover of holiday classics -- like, she has White Christmas playing on a loop until January. Bonus, this tumbler will provide a daily dose of "joy" with her morning caffeine fuel-up.
When it comes to being eco-friendly, look no further than this beautifully-designed reusable cup. It's also a great gift for your less-than-graceful pal who is prone to breaking anything that is, well, breakable This BPA-free plastic tumbler is sure to stay intact.
Cool It Down
Just because it's the season where gloves are mandatory outerwear doesn't mean that hydration with some good old water is any less important. To make sure your loved ones are getting their 64 ounces, gift them with one of Starbucks' many cold-beverage options.
Starbucks is bringing a beautiful collaboration to their shelves this holiday season, and you can get your hands on them in-stores beginning Nov. 21. In an email sent to Elite Daily from Starbucks, the coffee company shares that Liberty Fabrics and S'well have teamed up to create one-of-a-kind designs exclusively for Starbucks. You are sure to brighten the day (and up the H2O consumption) of whomever you decide to gift with one of these eye-catching designs.
Thanks to Starbucks' early release of the 2017 holiday gift guide, you won't be ordering a double-shot espresso on December 23 just to finish your holiday shopping -- you'll be at home relaxing with a cup of coffee in one of your new mugs.
Check out the entire Gen Why series and other videos on Facebook and the Bustle app across Apple TV, Roku, and Amazon Fire TV.