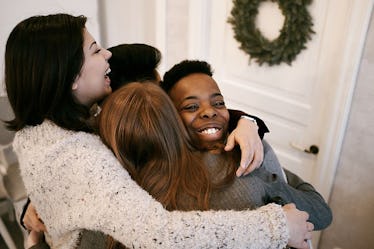 Embracing A Hygge Way Of Life Can Improve Your Mood In These 7 Awesome Ways
The official first day of winter is coming tomorrow, Thursday, Dec. 21, and with it comes the shortest day of the year. This means many of us have a cold, dark few months of winter wonderland ahead, which can oftentimes take a toll on a person's general mood and outlook on the day-to-day. To combat the winter doldrums, let's take a warm and cozy hint from our Danish friends and incorporate their very popular (and yeah, world-trending) practice of hygge. You might be very pleasantly surprised to find how hygge can help your mood this winter, my friends.
So, just in case you haven't heard the word, hygge as a concept means a focus on coziness, comfortability, and conviviality that is meant to help your well-being and happiness. As a practice, the Danes consider it the guiding principal of a lifestyle during the winter months, a time to focus on self-care, and fun, quality time with loved ones.
It's a pretty good idea, no? Since so many of us have the tendency to take a mood plunge this time of year, hygge practices are a great way to keep your happiness and well-being at the center of your life.
Who knows, hygge might even make winter your new favorite time of year. Here are a few ways in which embracing hygge can boost your mood not just in the winter, but year-round, too.