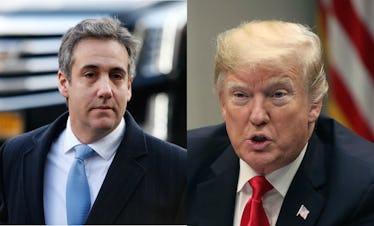 Donald Trump's Tweets About Michael Cohen Through The Past Year Are Peak 2018 Drama
Eduardo Munoz Alvarez/Getty Images News/Getty Images & Mark Wilson/Getty Images News/Getty Images
Well everyone, the year is basically done. I don't know about y'all, but 2018 has certainly been quite the year, and even more of a roller coaster for a certain United States president and his former attorney. So, to honor the end of 2018, let's take a trip down memory lane and compare how Donald Trump's tweets about Michael Cohen changed over the year. Spoiler alert: it doesn't look pretty.
By this point, we're all pretty familiar with the tumultuous relationship between President Donald Trump and his former attorney, Michael Cohen. However, once upon a time, the dynamic between these two men once wasn't filled with name-calling or finger pointing. Before Trump won the presidency, rumor has it that these two shared quite a close bromance, but that all changed when he moved into the White House. Since, the relationship between them has grown increasingly acrimonious, featuring personal jabs and controversial business deals.
However, as of Wednesday, Dec. 12, Cohen was sentenced to three years in prison for his two guilty pleas concerning financial crimes, with the possibility of knocking down that sentence given he cooperates with prosecutors. Cohen has been ordered to surrender himself on March 6, when his sentence will begin.
So as Cohen prepares for his prison time and Trump continues to be in hot water concerning various legal matters, let's take a peek at how the president's attitude towards Cohen has changed over this year. Truth be told, I'm feeling the nostalgia.