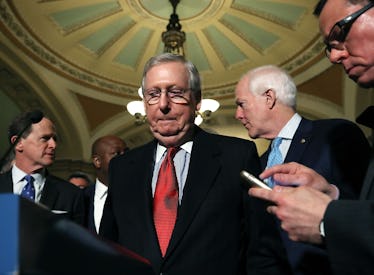 The GOP Tax Bill Would Hit Women Hard, & Here's What You Need To Know
Mark Wilson/Getty Images News/Getty Images
A week from Christmas, Republicans are about to deliver a big ol' gift to a small slice of American taxpayers. Republicans have promised that this tax overhaul will help all Americans, but the reality is that it will hurt the nation's most vulnerable people, including women. But you may be wondering: how does the tax bill affect women? Oh, let me count the ways.
Update: A previous version of this story reported that the tax bill will remove taxpayers' ability to deduct student loan interest and employer-provided tuition assistance on their taxes. As of Wednesday, Dec. 20, those provisions for students have remained in the bill that will move on to President Trump's desk.
Earlier: Despite the 55 percent of Americans who are, according to a CNN poll, opposed to the tax bill, on the afternoon of Tuesday, Dec. 19, the House of Representatives passed the reconciled tax reform bill.
And while the House will have to go back and vote again on Dec. 20 due to a "procedural snag," the bill is still on its way to the Senate. After a frantic weekend of negotiations with on-the-fence Republicans, the Senate, in all likelihood, will also pass the bill. According to Politico, Senate Majority Leader Mitch McConnell expects to pass the tax reform bill and have it to President Donald Trump's desk as early as Wednesday, Dec. 20.
Though Republicans like House Speaker Paul Ryan promise that the bill will be a boon for the average American, that is, according to experts, a rather optimistic view. In fact, the reality is that it will likely hurt low- and middle-income Americans. Further, it will have an outsized negative impact on women.
How?
It will undermine women's access to health care.
There's a sneaky provision in the bill that threatens health care: the repeal of the Affordable Care Act (ACA, aka Obamacare) individual mandate. This will, of course, hurt all Americans, as it will eliminate health coverage for 13 million people and, in all likelihood, send the insurance market into a tailspin, raising premiums across the board.
The ACA as it stands, and as flawed as it may be, currently guarantees birth control and other preventive care for upwards of 62 million women, and the tax bill's individual mandate repeal is a direct threat to women's health. Repealing the mandate will force some insurers to drop out of markets, which will raise premiums and likely wreck the ACA.
Amy Friedrich-Karnik, senior policy analyst for the Center for Reproductive Rights told Elite Daily on Dec. 5 that everything from preventive care to contraceptive coverage and maternity care is under direct threat.
"As premiums go up and people aren't able to even purchase insurance at all," Friedrich-Karnik said, "they might lose what they now have, which is guaranteed access to maternity coverage."
And according to Dr. Willie Parker, chair of the board for Physicians for Reproductive Health and the author of Life's Work, this bill lays the groundwork for destroying social services that will help low-income individuals — especially women.
He said in a statement shared with Elite Daily,
Among the many repercussions of this bill that will increase inequality in this country, there are several in particular that deeply concern me as a physician. The repeal of the Affordable Care Act's individual mandate will result in 13 million people losing their insurance coverage and dramatic increases in premiums. It will lay the groundwork for drastic cuts for Medicaid and Medicare and will plunder future generations' well-being.
But it's not just the threat to health care that will hurt women.
Promises to help families — especially women — fall short.
Women are increasingly the breadwinners of their families, according to the Center for American Progress. In fact, women are either the sole or co-breadwinner in half of all American families with children, per the Institute for Women's Policy Research.
And despite Ivanka Trump's insistence otherwise, the tax bill will not help families or women, according to Newsweek's Marie Solis.
While the bill "would double the current child tax credit" to $1,400, that increase will, in all likelihood, benefit wealthy families rather than working class families, which would be eligible for as little as $75 per child, according to Vox. That's far less money in most women's pockets.
Because women are paid less across the board than men, the bill will hurt them more.
Across the board, there is a very real wage gap between men and women. That gap is even more pronounced when you factor in race and ethnicity. And according to the National Women's Law Center, women make up nearly two-thirds of minimum wage workers in the United States.
That matters when discussing the tax bill, largely due to who the tax cuts go to. While Republicans like Ryan have promised upwards of $4,000 back in the average American family's pocket, that is sneaky math that obfuscates what will really happen: the majority of the tax cuts will go to the extremely wealthy. According to both the bipartisan Committee on Joint Taxation and the Tax Policy Center "estimates that next year about 10% of middle income filers and 20% of the highest income households would pay more. Those percentages rise to 30% for each group by 2027." And, in fact, low- and middle-income earners would see their taxes increase — while services for low-income individuals would be cut, essentially cutting off many Americans' — and many women's — ability to, well, function.
But what if these women, who historically earn less than men, want to get an education and better their chances of higher wages? Nope. Those with educational debt will have a harder time paying off their loans thanks to the tax bill, which eliminates the ability to deduct student loan interest and employer-provided educational assistance. This is, of course, a problem for people regardless of gender, but women have more educational debt than men. According to CNBC, "42 percent of women have more than $30,000 in college debt, compared with 27 percent of men."
So long story short? It does a lot of things for women, and all of them have us biting our nails. But, hey, it's a legislative win. Go, team, go!