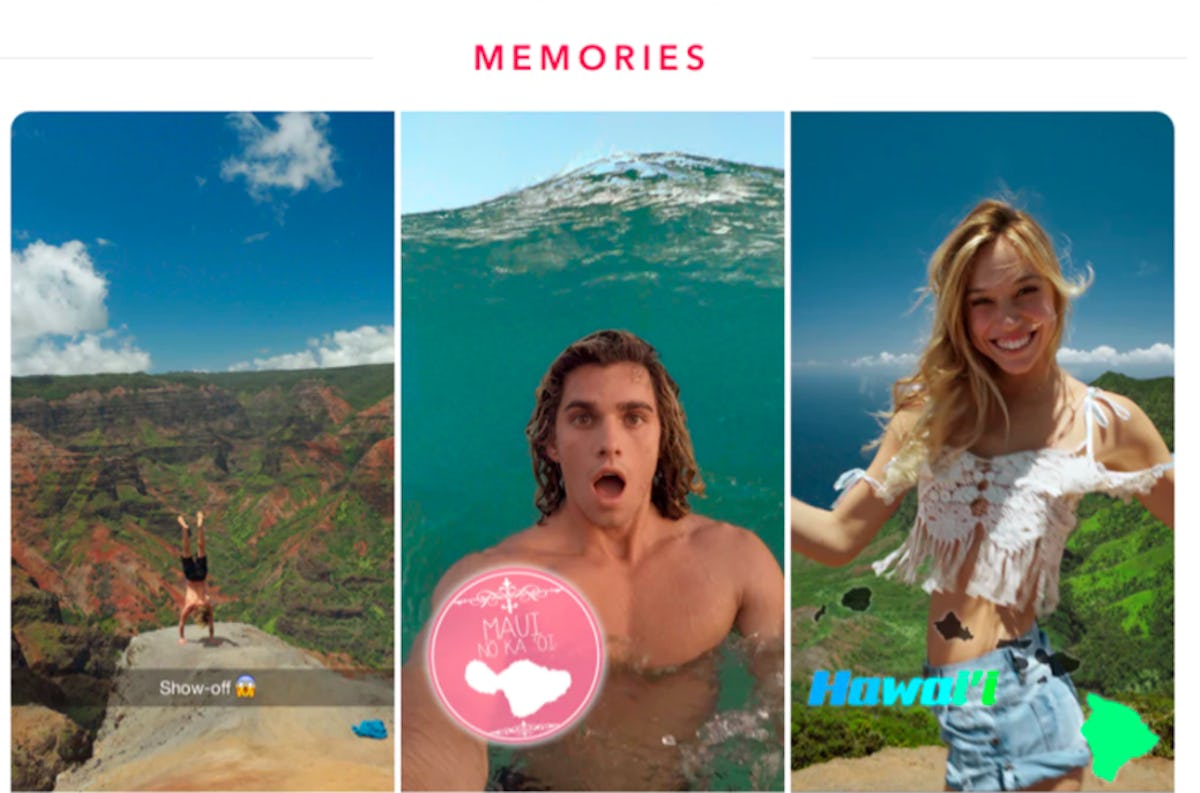 Snapchat Chooses Memories For Your 2017 Story By Looking At These Details
With only a few more days left in 2017, it's the perfect time to reflect on the year that is about come to an end. Thankfully, Snapchat has rolled out a new feature in its app that makes it so easy to relive the best (and most hilarious) moments that you captured in Snapchat this past year. After seeing your 2017 Memories Story (and how it fittingly represents your year), you'll likely ask, "How does Snapchat choose what's in your Memories Story?"
To create the 2017 Story, Snapchat goes into your Memories feature and selects some of your saved Snaps to get started on your very own personalized 2017 Story. This isn't merely a random grouping of Snaps, either (like when you would forget what day your presentation was due and start gluing construction paper to poster board the night before). No, Snapchat doesn't follow the procrastinator method. Instead, it appears that Snapchat uses sophisticated technology to curate a 2017 Story that is uniquely you.
According to Snapchat, the app looks at different markers such as the location, date, and captions connected to each Snap. When you watch your 2017 Story, you might be surprised at how accurately the app can create a custom Story for each of its users.
You can access your 2017 Snapchat Story in the Memories section.
For example, my own 2017 Story begins with a caption that reads, "It started like this...", and then Snapchat played a funny video of my dad and me (which I had totally forgotten about) waiting for my sister's airplane to land in the airport parking lot from Jan. 1, 2017 — complete with some holiday selfie Filters, of course. I hadn't watched that Snap since we made it almost a year ago (Snapchat likely looked at the date to organize this Snap), but it was definitely a great memory to be reminded of as this year comes to a close. You'll likely come across some oldie-but-goodie Snaps as well.
One of my favorite aspects of the 2017 Story is the section that reviews your Snaps from your yearly travels. It starts off with, "I traveled far and wide," (which is presumably categorized by looking at markers like Geofilters) and then Snapchat digs up Memories from places you may have even forgotten that you visited this past year. I'd like to think that I'm pretty good at documenting my getaways, but Memories pulled up some Snaps that didn't make their way to the Facebook album or Instagram Feed, and it reminded me how many exciting adventures I had this past year. You will definitely be surprised (in the best way possible) by your Memories of Snapchat past.
Watching your 2017 Story is great way to pull you out of a possible end-of-year funk when you're stuck between Christmas and New Year's and have no idea what's going on or what day it is. Even better news is that if your Story happens to bring up a memory that you'd like to leave in the past forever (like that ex you're no longer super fond of), you can easily delete that Snap from your 2017 Story.
Editing your Story is a breeze in the Memories feature.
As for the Snaps that bring a big old grin to your face, you can have some fun with those when you edit your 2017 Snapchat Memories Story using the creative tools in the Snapchat app. Now, you can't add in any Snaps that Snapchat didn't originally include in your 2017 Story, but once you have perfected the look of your Story with your expert edits, you can save it to your phone and share your 2017 Story with friends and family as a nice year-end digital greeting card of sorts.
Now that you know how Snapchat creatively uses data from your Snaps to curate your personalized 2017 Memories Story, you can enjoy looking back on the past year with fondness (and plenty of laughs), and you can look forward to creating even more Memories in the year to come.
Check out the entire Gen Why series and other videos on Facebook and the Bustle app across Apple TV, Roku, and Amazon Fire TV.