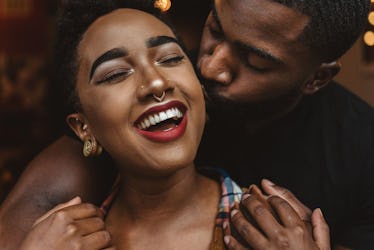 Here's How To Measure Someone's Emotional Intelligence, & It's Much Easier Than You Think
We all know that making relationships last can take effort, and having an emotionally intelligent partner can make a huge difference when it comes to going the distance. If you've ever asked yourself how to measure emotional intelligence, the truth is that it's actually much simpler than it sounds. It's about communicating and processing emotions in a grounded, mature way.
"Emotional intelligence is the ability to identify and manage your own emotions and the emotions of others," Psychology Today reports. Even though this might sound easy on paper, many people struggle to deal with their own emotions, and we can all likely think of a time when we could have dealt with an emotionally distressing situation with more maturity. Unfortunately, emotional intelligence isn't something people are born with. Like many other things, it takes time to grow and to cultivate.
Since we're all on our own unique emotional journeys, it totally makes sense that some of us have found productive ways to process and express our emotions — and some of us are still figuring things out. According to experts, measuring emotional intelligence boils down to the following characteristics.