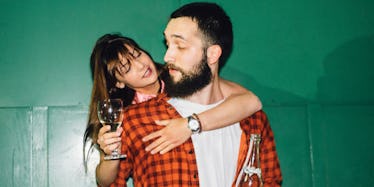 5 Signs You're More Emotionally Intelligent Than Your Partner & How To Deal
You may remember a of couple seasons back on The Bachelor when contestant Taylor Nolan talked about emotional intelligence, and whether or not Corinne Olympios had enough of it for lead Nick Viall. Now, while it wasn't necessarily Nolan's place to determine whether or not Olympios was sufficiently emotionally intelligent, the bottom line is that the trait can play a role in relationships. There are signs you're more emotionally intelligent than your partner in regards to a variety of situations.
I discussed this with psychotherapist Jeffrey Rubin (no relation), author of The Art of Flourishing: A Guide to Mindfulness, Self-Care, and Love in a Chaotic World, Julie Spira, online dating expert and coach, and Diana Dorell, an intuitive dating coach. They offered their insight on what emotional intelligence means, how to tell when you have more than your partner, and suggestions for balancing different levels of emotional intelligence in your relationship.
If one person has more emotional intelligence in a relationship than the other, that does not mean the partnership is doomed from the start — it's something that can be learned with time and gained through practice. Read on for signs you're more emotionally intelligent than your partner.